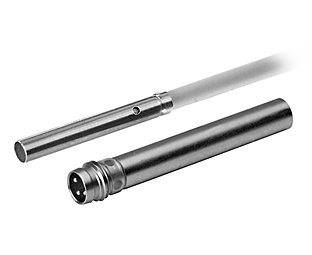 Our Bulletin 871C Mini Tubular Sensors are self-contained, general purpose, solid-state devices designed to sense the presence of ferrous and nonferrous metal objects without touching them. These small-barrel sensors are designed for space-critical applications where standard size sensors simply won't fit.
Incorporates embedded IO-Link communication protocol in select 871C sensors to help minimize downtime and increase productivity

IO-Link enabled sensors offer advanced features and diagnostics including Automatic Device Configuration, multiple profiles, trending, descriptive tags, and device specific parameters

3-wire operation

3-conductor, 3-pin pico, or 3-pin 6 inch lead

3 mm, 4 mm, and 5 mm barrel diameters

10…30V DC

Normally open

False pulse, transient noise, reverse polarity, and short circuit protections
Typical applications for the Mini Tubular Sensors include:

Light-duty packaging applications
Automotive welding equipment
Food-processing plants
Certifications
CE Marked for all applicable directives

IO-Link
Certifications apply when product is marked. See our Product Certification site for Declarations of Conformity, certificates and other certification details. 
| Resource | Publication Number | Language |
| --- | --- | --- |
| Presence Sensing Brochure | SENSOR-BR001 | |
| Bulletin 871C Mini Tubular Proximity Sensors with IO-Link Product Profile | 871C-PP001 | |
| Inductive Proximity Sensors Technical Data | PROX-TD001 | |
| 871C Miniature Inductive Sensors with IO-Link Interface User Manual | 871C-UM001 | |
| Integrated Smart Sensor Solution Quick Reference Guide | IOLINK-SP001 | |