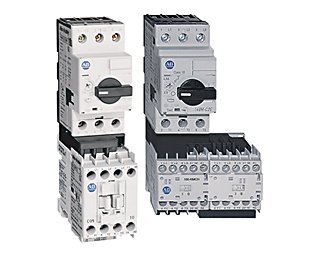 cULus Listed Type F Combination Motor Controllers Type 1 & 2 Coordination
103S/107S
Current range 0.1…90 A
Non-reversing (Bulletin 103) and reversing (Bulletin 107)
Two components starters with motor protection circuit breaker and IEC contactor
cULus Listed Type E Self-Protected Combination Motor Controllers
Mounted on Bulletin 141A busbar mounting system or panel mounting modules
103T/107T
Current Range 0.1…45 A
Non-reversing (Bulletin 103) and reversing (Bulletin 107)
Three component starters with motor circuit protector or fuse holder, IEC contactor and electronic overload relay with optional communication module
cULus Listed Type E Self-Protected Combination Motor Controllers
Mounted on Bulletin 141A busbar mounting system or panel mounting modules
190E/191E
Current range: 0.1...43 A
Non-reversing (Bulletin 190E) and reversing (Bulletin 191E)
Two components starters with motor protection circuit breakers and choice of miniature or standard contactor
Mounted using snap fixing on (1) 35 mm top hat rail
190S/191S
Current range: 0.1...43 A
Non-reversing (Bulletin 190S) and reversing (Bulletin 191S)
Two components starters with motor protection circuit breaker and choice of miniature or standard contactor
cULus Listed for control and protection of motor loads
Mounting options: snap fixing on (1) or (2) 35 mm top hat rails
Certifications
CE Marked
cULus Listed
Suitable for use with IE3 Motors (IEC 60034-30)
| Resource | Publication Number | Language |
| --- | --- | --- |
| Controlling High Efficiency Motors Brochure | IE3-BR001 | |
| IEC Open and Enclosed Starters Product Profile | 100-PP006 | |
| IEC Contactor Specifications | 100-TD013 | |
| IEC Starter Approximate Dimensions Technical Data | 100-TD015 | |
| 193-K, 193-T1 Bimetallic Overload Relay Specifications | 193-TD010 | |
| E1 Plus Overload Relay Specifications | 193-TD011 | |
| Industrial Components Preventive Maintenance, Enclosures, and Contact Ratings Specifications | IC-TD002 | |
| Global Short Circuit Current Ratings Product Profile | SCCR-PP002 | |
Configuration & Selection Tools
CrossWorks — Convert competitive catalog numbers to similar Allen-Bradley® products.
MCS Star — Configure a Modular Motor Control System.
ProposalWorks — Build complete quotes and proposals.
Other Resources
Integrated Architecture Builder — Select hardware and generate bills of materials for projects.

Knowledgebase — Visit our online resource for technical information, support chat and forums, software updates, and product safety advisories/notices.