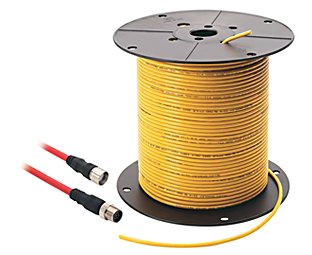 Our Bulletin 1585 Ethernet Cable Spools supply a reliable network connection in harsh surroundings. The high speed data rate allows more data to be transferred within a shorter period of time. Red cable jackets let you easily identify safety applications. We offer unshielded twisted pair, shielded twisted pair, and 600V cables.
1585 Shielded or Unshielded Twisted Pair Cable Spools
Four- and eight-conductor styles

Twisted pair unshielded cable types, Cat 5e

Twisted pairs maintain signal balance through cable to provide high noise immunity and return loss

Designed to ODVA EtherNet/IP™ specifications and ISO IEC 24702

Suitable for high noise environments M3I3C3E3

Riser polyvinylchloride (PVC) cables used for general purpose environments

Red cable jackets identify safety networks on your machines
1585 600V Ethernet Cable Spools
Foil shield, PVC, four- and eight-conductor (two and four pair) styles

600V PVC cable designed to support high voltage applications

On-Machine rated cable for use in a cable tray shared with high voltage power cables

RJ45 insulation displacement connector available for field terminations

Red cable jackets identify safety networks on your machines
Certifications
Unshielded twisted pair and shielded twisted pair:
600V Ethernet cable:
Certifications apply when product is marked. See our Product Certification site for Declarations of Conformity, certificates and other certification details. 
| Resource | Publication Number | Language |
| --- | --- | --- |
| Industrial Ethernet Media Brochure | 1585-BR001 | |
| Connectivity & Network Media Brochure | CONEC-BR001 | |
| Ethernet Connectivity Product Profile | 1585-PP003 | |
| Essential Components: Connectivity and Ethernet Media Product Profile | 1585-PP004 | |
| Ethernet Media Technical Data | 1585-TD001 | |
| EtherNet/IP Benefits of Industrial Connectivity in Industrial Applications White Paper | 1585-WP001 | |
| EtherNet/IP Media Planning and Installation Manual | 00148R0 | |
| Integrated Architecture Recommended Literature Reference Manual | IASIMP-RM001 | |