Join us for a new world-class experience showcasing the power and value of our IT/OT expertise

On Demand - now until June 2021
The Automation Fair® At Home experience features the newest solutions and innovations, engaging  training sessions, industry focused forums, and keynote presentations, and virtual tours and exhibits.

Automation Fair At Home is free to attend, but registration is required.  
NEW! Your Next session playlistsAccess the best sessions from Automation Fair® At Home on demand   We curated the top sessions from Automation Fair® At Home into these Your Next playlist collections. In each playlist, you'll find direct links to sessions available on demand. Enjoy!
Save the date 
With your health and safety top of mind, we are actively planning to host the 2021 Automation Fair® event as a live, in-person event. 
Automation Fair® event
November 10-11, 2021 
Houston, Texas 
We are excited to reconnect with you again to share new experiences and exchange ideas in a safe and comfortable environment. We will continue to closely monitor COVID-19 conditions, and if needed, we will take the appropriate actions to ensure the upmost safety and comfort for you.  
We hope to see you soon!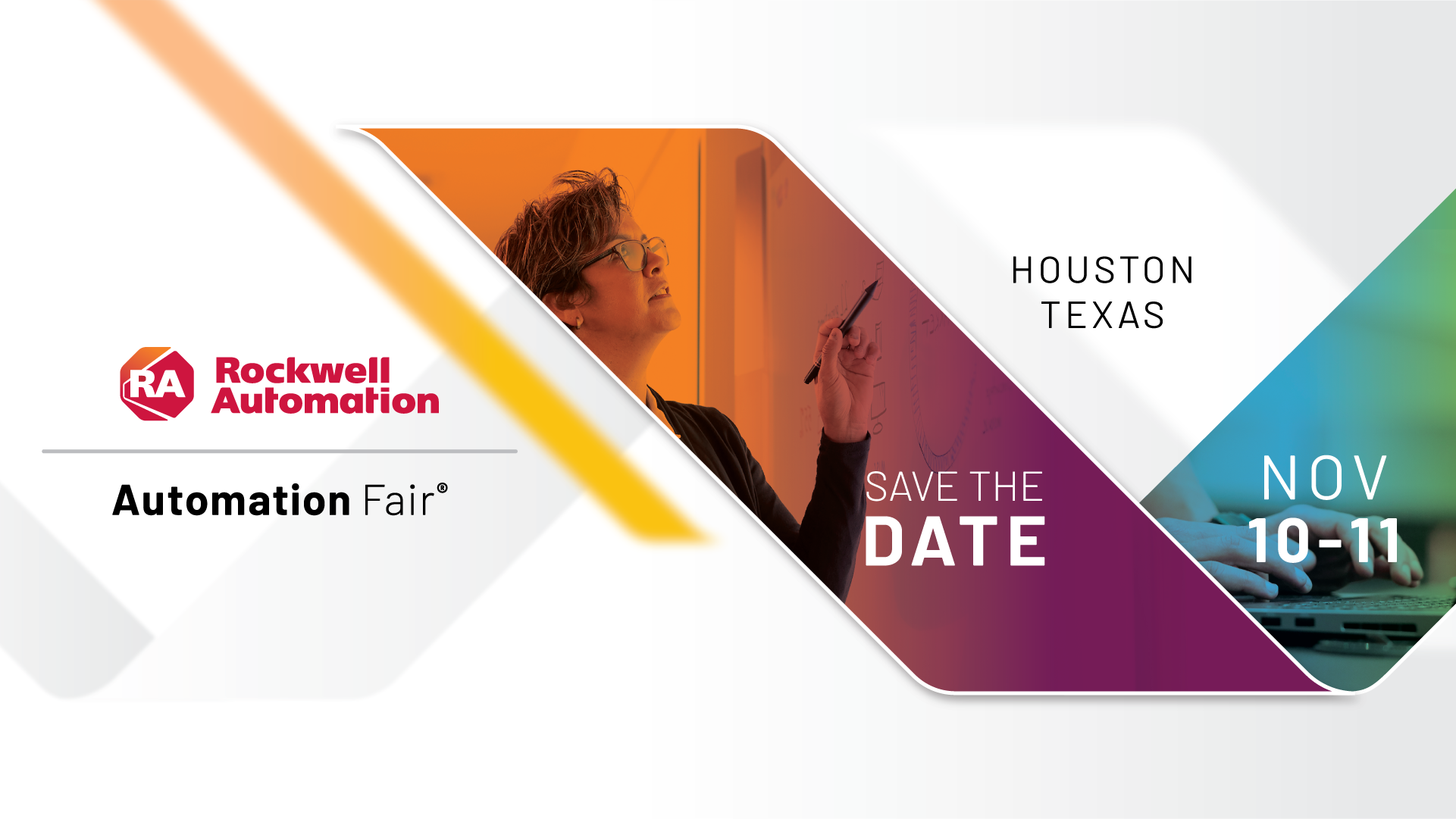 Discover Your Next Innovations 
The Automation Fair® At Home virtual exhibits will showcase the newest products, solutions and services. Experience the latest innovations first-hand from Rockwell Automation and members of the PartnerNetwork™ companies.
The Rockwell Automation Experience
We completely reimagined our Automation Fair exhibits to bring you an experience that is safe, engaging and informative. Experience our latest innovations in the newly designed Digital Engineering Hall, Digital Thread Experience and the Products & Technology Showcase.

Explore the Rockwell Automation Experience
Visit the exhibits and explore the new technologies See who is exhibiting from the PartnerNetworkTM and browse all the new products and technologies featured from Rockwell Automation and the Partners. 
Training and inspiration
The Automation Fair® At Home experience offers hands-on training sessions and thought-provoking presentations to help you conquer your industry challenges. These sessions are presented by experts from Rockwell Automation, our PartnerNetwork™ members, and forward-thinking professionals. Learn how they can improve your expertise and skillset.  
Browse the Session Catalog
Professional Development Hours (PDH)
Professional Development Hours are available for the Product and Technology sessions presented by Rockwell Automation. 
Industry Next
Join us for these Industry Forums and additional industry-specific sessions, exhibitors and more 
We're living in unprecedented times. The pace of change is fast and furious and companies across the globe are stepping up in unique ways to better serve their customers. Join us for 60-minute moderated panel discussions where leaders from your industry will discuss how they are defining, transforming, and innovating their next.
Automation Fair At Home features the following ten industry forums. In addition, we put together a listing of industry-specific sessions, must see exhibits and new solutions being featured during the event. Check out all the offerings for your industry!
Sketch artists captured the forum conversations and we have the final sketches available for download. You may also watch the time-lapse videos of the sketches being created. Click on each forum link to access the sketches. 
View the Industry Forum sessions
Automation Fair At Home would like to thank our Star Level Partners: