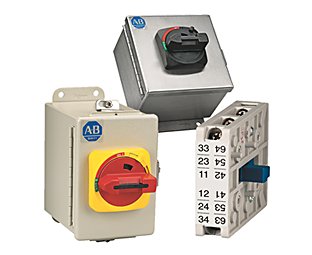 Our Bulletin 194E Load Switches are designed for use as local motor isolation and disconnect switch applications. Our switches are available in 3- and 6-pole versions with add-on additional poles, grounding and neutral terminals and auxiliary contacts. These switches share the same operating handles as the Bulletin 194L Control and Load Switches.
Convient en tant qu'interrupteur de charge au niveau du moteur (UL508)
Interrupteurs de charge inductive de 16, 25, 32, 40, 63, 80 et 100 A
Manettes de commande IP66/UL 1/3/3R/12
Bornes avec protection contre les contacts accidentels IP2LX
Versions 3 et 6 pôles ; pôles d'accessoires complémentaires pour former des unités à 4, 5, 7 et 8 pôles
Configurations de montage frontal/sur porte ou sur rail DIN/en saillie
Disponibles en configurations marche-arrêt et transfert
Interrupteurs conditionnés à 3 et 6 pôles
Coffrets en matière thermoplastique en option
Actionneur à guidage positif
Poignées cadenassables disponibles (jusqu'à 3 cadenas)
Certifications
CE Marked for all applicable directives

CSA Certified (LR 13908)

IEC

UL Listed (File No. E54612, Guide NLRV)

Suitable for use with IE3 Motors (IEC 60034-30)
Certifications apply when product is marked. See our Product Certification site for Declarations of Conformity, certificates and other certification details.