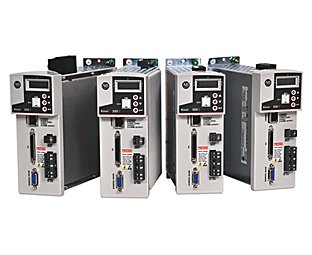 Continuous output power of 400 W…3 kW
Input volts: 115…240V AC single-phase and 230-480V AC three-phase
Supports five different index types and as many as 32 indices
Memory module for automatic device replacement
Programmable through Add-on Profiles in the RSLogix™ 5000 programming software (version 20 or earlier) or in the Studio 5000™ Logix Designer application (version 21 or later)
Integrates with CompactLogix® controllers as part of Integrated Architecture™ system
Integrates seamlessly with MP-Series™ and TL-Series™ servo motors and actuators
Built-in Safety Features:
Safe Torque-Off is certified at ISO 13849-1 PLd/SIL2, and requires an external safety relay to meet EN954-1, Category 3. Prevents drive restarts after the safety circuit is tripped.
Additional Information
Protect your people, productivity, and environment with our Safety Components and integrated Safety Solutions. We understand your factory floor challenges and can help you meet your goals with one of the broadest safety portfolios in the industry.
Use the following software to program your Kinetix 350 Single-axis Ethernet/IP servo drives.
| Resource | Publication Number | Language |
| --- | --- | --- |
| Integrated Architecture Brochure | IA-BR005 | |
| Kinetix Motion Control Selection Guide | KNX-SG001 | |
| Kinetix Servo Drives Specifications Technical Data | KNX-TD003 | |
| Kinetix Motion Accessories Specifications Technical Data | KNX-TD004 | |
| Kinetix 300 Memory Module Programmer Quick Start | 2097-QS001 | |
| Simple Motion Control via EtherNet/IP with Kinetix 300 Drives Quick Start | CC-QS018 | |
| Kinetix 300 EtherNet/IP Indexing Servo Drive User Manual | 2097-UM001 | |
| Kinetix 300 and Kinetix 350 Drive Systems Design Guide | GMC-RM004 | |
Typical applications for Kinetix® 300 servo drives include:
Simple packaging machinery

Indexing tables

Automatic assembly equipment

Tool changing machinery

Feed and withdrawal equipment