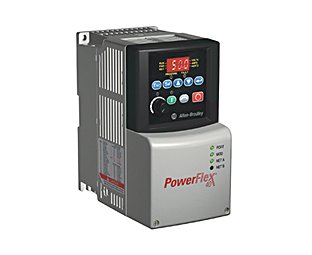 Our PowerFlex® 40 AC Drives provide OEMs, machine builders, and end users with performance-enhancing motor control in an easy-to-use compact package. These  drives feature sensorless vector control to meet low-speed torque demands. With flexible enclosure options, and simple programming, they can be installed and configured quickly. We also have packaged drives that provide additional control, power, and enclosure options in standardized designs.
Power ratings:

100...120V: 0.4...1.1 kW / 0.5...1.5 Hp / 2.3...6 A

200...240V: 0.4...7.5 kW / 0.5...10 Hp / 2.3...33 A

380...480V: 0.4...11 kW / 0.5...15 Hp / 1.4...24 A

500...600V: 0.75...11 kW / 1...15 Hp / 1.7...19 A

IP20 NEMA/UL Type Open, plate drive, flange mount, IP66 NEMA/UL Type 4X/12, and DIN rail

Optional IP30 NEMA/UL Type 1 conversion kit

Ambient temperatures up to 50 °C (122 °F) permitted with minimal spacing between drives

Zero Stacking™ Drives for ambient temperatures up to 40 °C (104°F)

V/Hz and sensorless vector control, as well as process PID

Integral RS-485 communication

Optional serial converter module for use with any controller with DF1 messaging

Optional DeviceNet™, ControlNet™, and EtherNet/IP™, Profibus DP, BACnet™, and LonWorks® communication modules

Drive overload protection, ramp regulation, and flying start

StepLogic® allows operation as an independent position controller

Configuration and programming via integral LCD keypad, remote keypad, or software

Premier Integration with PowerFlex® AC drives uses the Logix control platform to simplify parameter and tag programming and reduce development time
Packaged Drive Options
Power options include circuit breaker, fused disconnect, bypass, and input fuses

Output relay and transformer control options

Door-mounted human interface module (HIM), hand/off/auto selector switch, status pilot lights, and speed potentiometer
Certifications
Meets or exceeds IEC 61800-9-2

IE2

energy efficiency requirements.
CE Marked
C-Tick
cUL Listed
UL Listed
RoHS
Certifications apply when product is marked. See our Product Certification site for Declarations of Conformity, certificates and other certification details. 
| Resource | Publication Number | Language |
| --- | --- | --- |
| PowerFlex Family of Low Voltage AC Drives Brochure | PFLEX-BR008 | |
| PowerFlex Standard Drives Low Voltage Selection Guide | PFLEX-SG002 | |
| PowerFlex 4/40 Standard Drives Technical Data | 22-TD001 | |
| PowerFlex 40 Configured AC Drives Installation Instructions | 23B-IN001 | |
| PowerFlex 40 Standard Drives Quick Start | 22B-QS001 | |
| PowerFlex 40 Adjustable Frequency AC Drive User Manual | 22B-UM001 | |