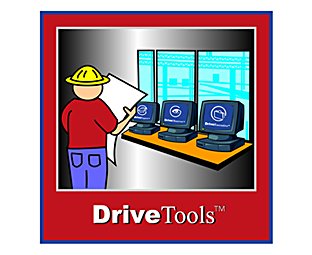 DriveTools™ SP is a family of software tools that provides a simplified interface for programming, maintenance and troubleshooting of select PowerFlex® AC and DC drives. Tools include DriveExecutive™ and DriveObserver™ software.
Works with select PowerFlex® drives
Easy-to-use menus, dialogs, wizards, graphic displays, trend charting, and overview diagrams
Diagnostic features for drive and system problems
User files that automatically embed necessary database files
Single-communication set-up
For Windows® 2000, XP, Windows 7, and Windows Vista® operating systems
Offline configuration
Compatible with RSLinx® software
Premier integration of Studio 5000 Logix Designer and PowerFlex® Drives


Reduces drive system development time by as much as 70%
Allows you to configure controller and drive network connections at the same time
Allows you to dynamically select drive parameters transmitted as network I/O
Offers continued use of Drive Tools™ SP software via import and export functionality
Includes built-in drive diagnostic, fault, alarm, and event information
Provides one package to configure your entire Logix system
Offers integrated drive profiles that reduce system development time
Certifications apply when product is marked. See our Product Certification site for Declarations of Conformity, certificates and other certification details. 
Configuration & Selection Tools
Other Resources
Knowledgebase — Visit our online resource for technical information, support chat and forums, software updates, and product safety advisories/notices.