Classroom Training Schedule

AP Training Cancellation Policy
Full course fee charged for cancellations /postponements received within 15 calendar days, prior to course commencement.

Full course fee charged for no-show participants.

Suitably qualified replacements are welcome provided they register prior to commencement of the first day of the Course.

Customers will receive a full refund of fees paid in advance should Rockwell Automation default.

Requests for cancellations and transfers must be received in writing and acknowledged by Rockwell Automation.
Note:
Rockwell Automation strives to be a leader in green initiatives and looks to expand this effort by transitioning some of our training courses to paperless format. 
Our digital platform will offer students convenient access to eMaterial anywhere, anytime, both on- and off-line, make notes and print eMaterial.
Students will need to download eMaterial to their own devices prior to the class, and bring their device with them to class. 
Download Training Schedule
Thailand
Singapore
Malaysia
Philippines
Vietnam
Indonesia
Learning+ and Learning+ Enhanced Subscription Options
Download Subscription Options
Thailand
Singapore
Malaysia
Philippines
Vietnam
Indonesia
How do I decide what training is right for me?
Our training courses are assigned a technology track and course category and offer a recommended path based on your job responsibilities within a technology area. Courses in the Understand section apply to all students and provide the prerequisite knowledge required to successfully complete the Maintain/Troubleshoot and Program/Design courses.
For example, If you are interested in learning more about our Motion Control technology:

Filter the courses by the Motion Control Course Technoloy and the Understand Course Category.  
Click a course name to get the details about the course.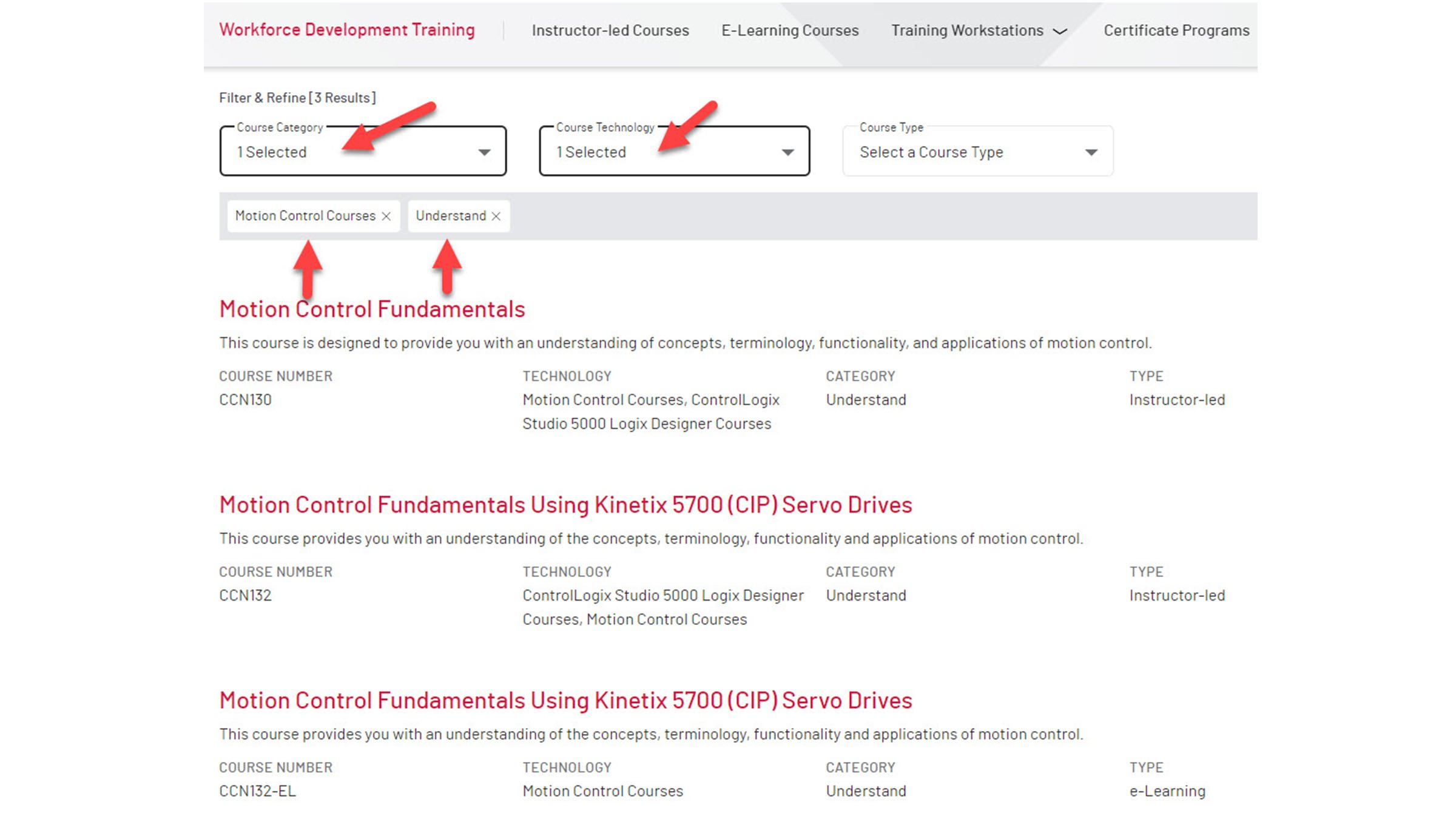 Technology Tracks
Condition Monitoring
ControlLogix/Studio 5000 Logix Designer
Craft Skills
Industrial Leadership
Information Software
Motion Control
Network
PLC-5/RSLogix 5
Power Control (Drives & MCC)
Process Control
Safety
SLC500/RSLogix 500
Visualization/HMI
Course Category
Understand
Program/Design
Maintain/Troubleshoot
What are the most popular courses?
What is your enrollment policy?
What is your cancellation policy?
What are your terms and conditions for use of training material?
Strengthen Competency and Fill Skills Gaps
Access to Skilled Talent Decreases as the Need for New Skills Increases
The need for talented new employees has taken on greater importance as older workers retire and new technologies require new skills. A clear workforce development and training strategy can help you mitigate workforce challenges. Reduce the impact of the skills gap on your operations with our Workforce Support and ​Training​ Services. Empower your people and extend the reach of your team at whatever level you require. Supplement your workforce to address critical skill shortages, retain and build critical skills, and stay productive and keep up with customer demands.
Supplement Your Workforce
Enhance Capabilities with On/Off Premise Subject Matter Experts
Extend the reach of your team. Count on our subject matter ​experts​ to Supplement your internal capabilities both offsite and on. Choose from offerings that range from ​start-up​ support to comprehensive service agreements.
Related Products and Services
Ready to talk to a Training Enrollment Specialist?