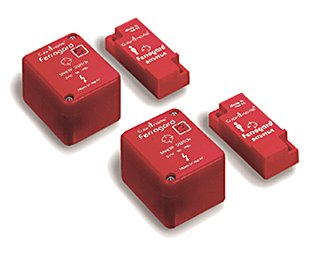 Our Ferrogard™ 3, 4 and 5 Non-contact Interlock Switches have terminal connections. These magnetically actuated safety switches offer non-contact reliability together with tolerance to misalignment.
Non-contact actuation

High tolerance to misalignment

High switching current (up to 2 A, 250V AC)

Various contact arrangements

Terminal connections
Additional Information
Protect your people, productivity, and environment with our Safety Components and integrated Safety Solutions. We understand your factory floor challenges and can help you meet your goals with one of the broadest safety portfolios in the industry.
Certifications
CE Marked for all applicable directives 
Safety Classification
Cat. 1 Device per ISO13849-1

Dual channel interlocks suitable for Cat. 3 or 4 systems

 


Functional Safety Data
B10d: > 2 x 106 operations at min.
PFHD: > 3 x 10-7

MTTFd: > 385 years

Dual channel interlock may be suitable for performance levels PLe or PLd (according to ISO 13849-1:2006) and for use in SIL2 or SIL3 systems (according to IEC 62061) depending on application characteristics
Standards Compliance
ISO 13849-1

IEC/EN 60204-1

NFPA 79

EN 1088

AS 4024.1
Certifications apply when product is marked. See our Product Certification site for Declarations of Conformity, certificates and other certification details.