Manufacturers can address quality, yield, and regulatory challenges through integration of biotech manufacturing processes with the rest of the enterprise.
Turn Production Data into Actionable Information
Global biotech companies face unprecedented challenges that include time and cost to bring products to market, increased competition, regulatory compliance, quality and production efficiencies. For every challenge in biotech, there is a technology solution: a smart, connected plant built on an integrated, flexible, information-enabled automation system. This approach delivers business value through:
Accelerated product introductions

Reduced cost of compliance

"Right-first-time" release

Reduced cycle times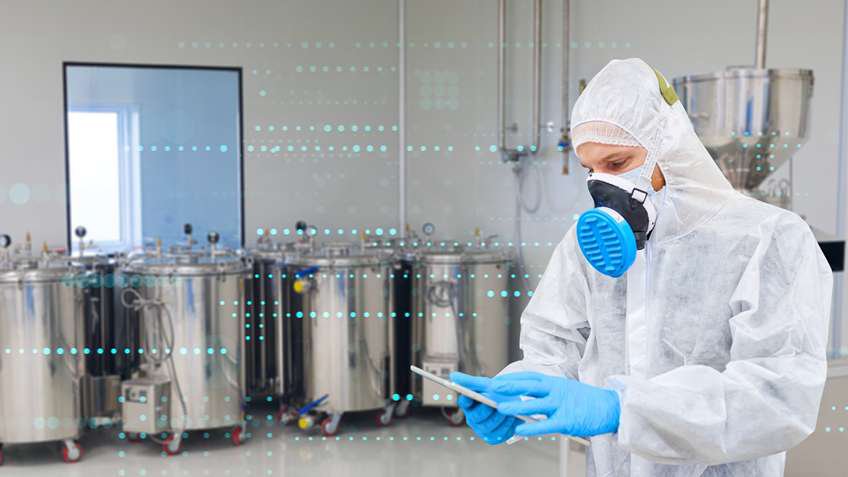 The Impact of a Flexible Facility
Biopharmaceutical companies have seen big benefits from going small — smaller building footprints, reduced inventory, less downtime. We can help make those outcomes happen by combining our scalable automation platform, manufacturing intelligence and MES solutions to create the high-performing facility you need to compete. With flexible process equipment, including single-use and mobile technology, you'll have the ability to:
Maintain quality and compliance while making process changes

Manage inventory using data-driven process control and predictive metrics

Spend less time cleaning and more time in active production

Increase the productivity of your workforce

Enable multi-product manufacturing

Achieve real-time visibility and traceability
Integrated Process Control System Raises Benchmark
Biopharmax, a builder of manufacturing facilities around the world, was tasked to design a new insulin production facility in China with a strict time schedule. By deploying Rockwell Automation solutions, they saved time and engineering effort, and raised the benchmark for process operations.
Modern DCS Improves Visibility and Uptime
A biopharmaceuticals producer upgraded skid control systems, and improved operations visibility and uptime in the process. The new control systems help operators more quickly configure applications to speed up production deployments and shorten cycle time. An upgraded network enables visibility into the system with remote-access capabilities. Detailed alarms speed up troubleshooting. Read how this holistic approach delivered benefits across their operations.
Improve Time to Market, Quality and Compliance
In the highly competitive and regulated biotech industry, balance is crucial for success. You face a broad set of challenges that requires an end-to-end solution. Meet your operational goals and productivity requirements in a consistent and predictable way with PharmaSuite® MES.
Learn More About PharmaSuite MES
To meet the shift in the biotech industry, manufacturing systems must provide the agility and accuracy to handle the complexity of a smaller and more flexible production process.
We understand this paradigm shift. We offer an impressive set of solutions that includes process, information, automation and services. These offerings provide a Lean Six Sigma environment that enables easy scale-up and reduces waste.
Flexibility and Scalability for Your Manufacturing Process