Stratix 5200 Managed Industrial Ethernet Switch
Explore the capabilities of the Allen-Bradley® Stratix® 5200 managed industrial Ethernet switch. This flexible and adaptable solution can be used for a wide range of industrial applications. These switches feature optimized integration with Studio 5000 Automation Engineering & Design Environment® software, which simplifies configuration and monitoring. Advanced integration can help you experience easier commissioning and actionable diagnostics. Upgrade to Stratix 5200 switches to meet all your industrial needs.
Available for pre-order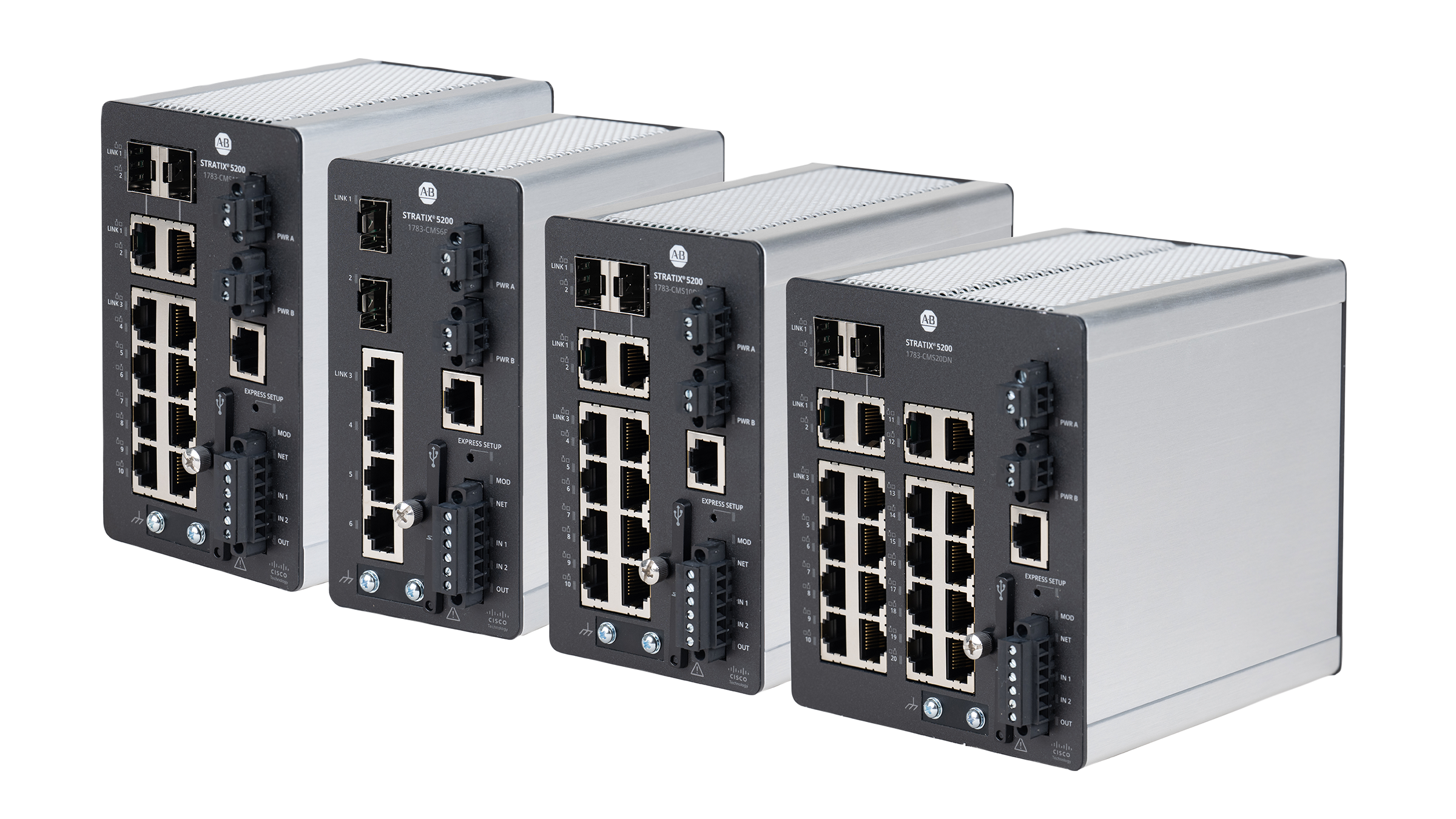 Functionality that delivers
fast production
New Stratix 5200 managed switches offer Layer 2 access switching, base or full firmware, and 6, 10, or 20 port options. Based on the Cisco IOS® XE platform that includes a new graphical web user interface, Stratix 5200 managed switches are easier to set up and configure and offer enhanced security features. You can reduce downtime with redundant power inputs and the backup/restore functionality using the optional 8-gigabyte SD card. These switches support add-on profiles and FactoryTalk® View faceplates that easily integrate into the Integrated Architecture® system. 

Allow yourself to 

operate with ease
Stratix 5200 switches integrate innovative technology to improve flexibility and user convenience. By featuring default configurations for industrial applications, these switches optimize performance and simplify setup, reducing costs and downtime. Additionally, these switches support both IT and OT configuration and management tools, allowing users to leverage their prior expertise during integration. 

Reduce downtime
and improve productivity
Stratix switches support the operation of a secure network infrastructure for a wide range of industrial applications. Each switch is designed to make your operations more efficient and collaborative with remote technical support networks. The breadth of the Stratix portfolio allows you to choose the right product for a specific application. Watch this video to learn more.

Provide 

secure switching 

infrastructure
Connect Stratix switches to your network devices to form the communications backbone of your industrial control systems. These switches are designed, optimized and tested to react in real-time to communication events and mitigate risk in a manufacturing environment. Stratix switches contain distinct capabilities when used with your Logix control system. Prebuilt operation interfaces for your FactoryTalk® View terminals will service switch alarms automatically, along with product and application support, giving you a single point of contact for support of the industrial control system.

Features all gigabit port options
Supports high speed redundant and resilient architecture options
Includes various copper and fiber choices to support a diverse set of applications
Supports layer 2 access switching
Supports both IT and OT configuration and management tools allowing users to leverage the expertise of both teams
Includes default configurations for industrial applications providing easy setup and optimized performance
Incorporates robust set of switching and security features to meet a broad spectrum of application needs
Includes Studio 5000® Add-on Profiles (AOPs) which enable premier integration into the Rockwell Automation® Integrated Architecture® system
Features predefined named Logix tags for monitoring and port control
Supports compatibility with FactoryTalk View faceplates helping enable status monitoring and alarming
Features Embedded Cisco® technology, including the IOS-XE operating system, helping enable integration with the enterprise network
Learn about our related products and services