Stratix 4300 Remote Access Router (1783-RA2TGB)

Stratix 4300 Remote Access Router (1783-RA2TGB)

Stratix 4300 Remote Access Router (1783-RA5TGB)

Stratix 4300 Remote Access Router (1783-RA5TGB)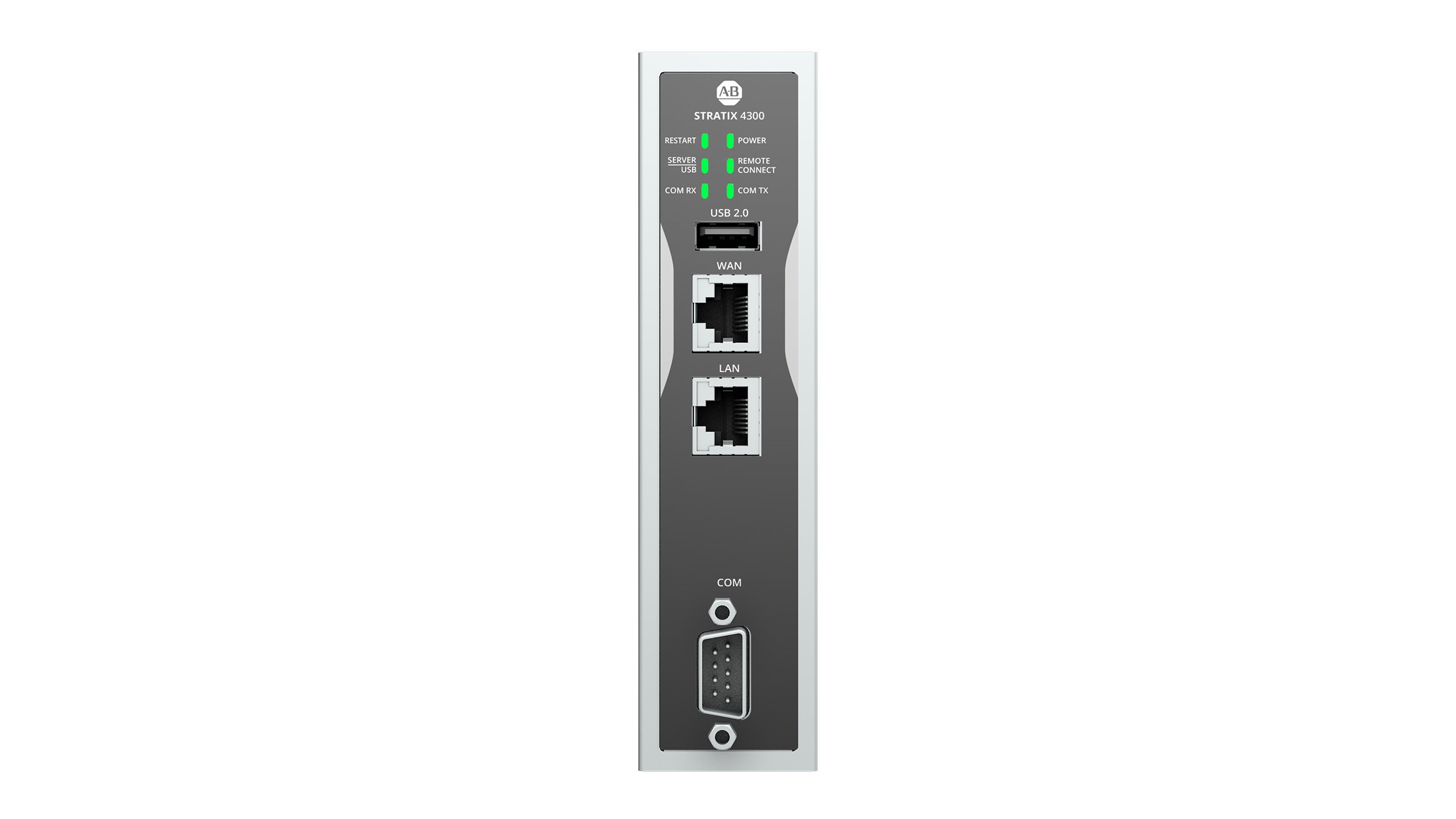 Our Stratix® 4300 Remote Access™ Router hardware is part of a complete solution, which also includes FactoryTalk® Remote Access™ Manager software. Together, these products make the FactoryTalk Remote Access solution. This connectivity provides support for installation, programming updates, and on-demand troubleshooting and maintenance when you cannot travel. 

The Stratix 4300 router is designed to allow machine builders and OEMs to securely operate on remote systems and its subnetworks. The secure remote access routers are offered in two and five 10/100/1000 Mbps Gigabit Ethernet copper port variants. 
Overview of the FactoryTalk Remote Access Solution
Reduce Costly Travel and Increase Network Accessibility
Grants access to remote applications while independent of physical location with VPN technology designed for industrial communication
Enables connectivity to devices connected via Gigabit Ethernet and serial port with Stratix 4300 Remote Access Router
Zero Impact Provisioning

Provides easier setup through an intuitive user interface and does not require configuration changes for existing devices in the remote network
Offers firewall friendly, passive solution with outbound only connections
Minimize Downtime and Increased Productivity
Provides on-demand access to remote machines to troubleshoot and update programs for automation devices
Compliance with IT Policies for Machine Builders and Manufacturers
Authenticates trusted devices in the cloud to enable remote access and two-factor authentication for registered users
Provides profiling and control access for more granular implementation of organizational structures composed of contributing users, administrators and limited users
Reports on auditing and logging of remote connections and administrative activities performed by who, on what and for how long
Allows control of communication flows passing through the VPN tunnel with an integrated firewall
Supports local access control for the manufacturers by using digital inputs to control the availability of remote connections and digital outputs to be notified on a remote session in progress
Stratix 4300 Remote Access Router Reference Chart
The Stratix 4300 Remote Access Router hardware can be used to enable VPN connectivity with industrial networks. Permission policies may be applied to help manage accessibility within the solution. A remote connection will give you more visibility to manage a plant with an information enabled infrastructure.
| | | |
| --- | --- | --- |
| Stratix 4300 Remote Access Router | 1783-RA2TGB | 1783-RA5TGB |
| Total RJ45 Ports | 2 | 5 |
| WAN | 1 Gigabit Ethernet | 1 Gigabit Ethernet |
| LAN | 1 Gigabit Ethernet | 4 Gigabit Ethernet |
| USB 2.0 | ✓ | ✓ |
| Serial Port DB9 Multistandard, Isolated | ✓ | ✓ |
| Digital Input/Output | ✓ | ✓ |
| VPN | ✓ | ✓ |
| NAT/Routing | ✓ | ✓ |
| Internet Sharing | ✓ | ✓ |
| Integrated Firewall | ✓ | ✓ |
FactoryTalk Remote Access Manager Software Offers Centralized Management
Using FactoryTalk Remote Access Manager software, the Stratix 4300 router can be managed from a centralized web-based interface to perform, configure and operate the VPN tunnel for remote access. With security in mind, two-factor authentication can be applied to validate the user's identity. In addition, the Transport Layer Security (or TLS) encryption protocol ensures confidentiality, integrity and authenticity of the data exchange session. Logs and audit trails are made available for tracking remote access operations and established connections.
Certifications
CE
c-UL-us
KC
Morocco
RCM
UCKA
Certifications apply when product is marked. See our Product Certification site for Declarations of Conformity, certificates and other certification details.