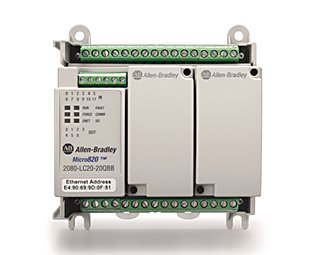 Our Micro820® Programmable Logic Controller Systems include a nano-sized footprint and are designed for small standalone machine control and remote automation applications that require flexible communications and I/O capabilities. These controllers support up to 36 I/O points with many embedded features such as Ethernet, microSD slot for recipe and data log, and analog I/O.
Offers 20-point controllers
Provides embedded 0...10V non-isolated 4 channel analog input and 1 channel analog output for speed control of an AC drive
Provides embedded communications via non-isolated serial port (for RS-232 and RS-485 communications) and Ethernet port
Communicates via EtherNet/IP™
Provides embedded support for up to four 10k thermistor temperature inputs
Supports program download through USB with an optional 3.5-in. Remote LCD
Supports up to two Micro800™ Plug-in Modules
Supports microSD™ card for program transfer, datalog, and recipe management
Additional Information
Find out how our Micro Control system offers a cost-effective and customizable solution for standalone machines in micro applications. Plus, learn about all the Micro Control products that enable the system.

Watch these videos for information about how to:

The Rockwell Automation PartnerNetwork™ offers complementary product solutions for Micro800 Controllers through the Encompass Product Reference program.
Certifications
c-UL-us CL1DIV2
CE
C-Tick
KC
Certifications apply when product is marked. See our Product Certification site for Declarations of Conformity, certificates and other certification details. 
| Resource | Publication Number | Language |
| --- | --- | --- |
| Micro800 Family of PLCs Brochure | 2080-BR001 | |
| Micro820 Programmable Logic Controller Product Profile | 2080-PP004 | |
| Micro800 Programmable Controllers Selection Guide | 2080-SG001 | |
| Micro800 External AC Power Supply Installation Instructions | 2080-IN001 | |
| Micro820 20-point Programmable Controllers Installation Instructions | 2080-IN009 | |
| Micro800 Remote LCD Installation Instructions | 2080-IN010 | |
| Micro820 20-point Programmable Controllers User Manual | 2080-UM005 | |
| Micro800 Programmable Controllers General Instructions | 2080-RM001 | |
Pump Control with SMS Plug-in