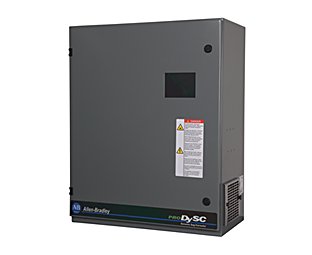 Our Bulletin 1608 DySC® Voltage Sag Protectors protect against voltage sags and momentary outages that account for a significant amount of manufacturing downtime and damaged equipment. These DySC protectors do not require batteries, they have no moving parts, and they require minimal maintenance. They are ideal for manufacturing processes and sensitive electronics that require sag ride-through protection up to five seconds.
Prevents damage to sensitive electrical equipment
Offers machine to facility-wide protection
Includes a single- and three-phase portfolio
Provides up to five seconds of ride-through
Protects against brief, complete voltage loss
Environmentally friendly
Certifications
Bulletin 1608N MiniDySC 2-6 Amp models are UL recognized, all other MiniDySC and ProDySC models are UL Listed.
UL Listed
UL Recognized
Standards Compliance
Exceeds SEMI F47 Standard
Certifications apply when product is marked. See our Product Certification site for Declarations of Conformity, certificates and other certification details. 
| Resource | Publication Number | Language |
| --- | --- | --- |
| POWER-BR011 | POWER-BR011 | |
| Bulletin 1608 DySC Voltage Sag Protector Product Profile | 1608-PP002 | |
| Bulletin 1608 DySC Voltage Sag Correctors Technical Data | 1608-TD001 | |
| Power Quality White Paper | POWER-WP002 | |