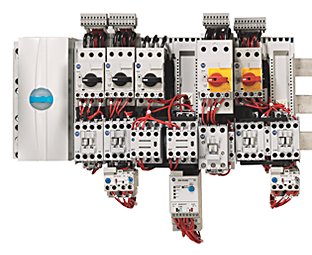 Provides reduced wiring and assembly time for cost savings
Includes efficient design with decreased panel space
Includes high-fault short-circuit systems ratings
Offers three mounting methods
Uses MCS Star configuration software
Modular Control System components include:
Contactors: 100-K, C, D and G
Motor Protection Circuit Breakers: 140G
Motor Circuit Protectors: 140M
Molded Case Circuit Breakers: 140U
Electronic Overload Relays: 193E
Thermal Overload Relays: 193-K, T1
Safety Contactors and Control Relays: 100S, 700S
Control Relays: 700-CF, CFB, 700-K
Mounting System: 141A
Configuration & Selection Tools
CrossWorks — Convert competitive catalog numbers to similar Allen-Bradley® products.
MCS Star — Configure a Modular Motor Control System.
ProposalWorks — Build complete quotes and proposals.
Other Resources
Knowledgebase — Visit our online resource for technical information, support chat and forums, software updates, and product safety advisories/notices.