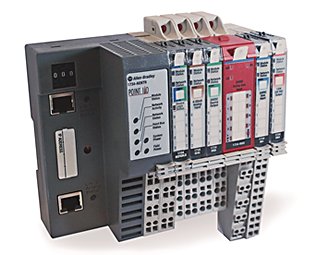 Our Bulletin 1734 POINT I/O™ modules offer digital, analog, and specialty I/O, as well as POINT Guard safety-rated I/O, with one to eight points per module. You can mix standard and safety I/O in the same system. Comprehensive diagnostics and configurable features make POINT I/O easy to apply.
Modular design lets you independently select the I/O, termination style, and network interface

Modules slide together for easy install and uninstall for easier maintenance

Removable wiring system saves time and money during installation and troubleshooting

Comprehensive diagnostics and configurable features makes POINT I/O™ easy to apply

Removal and Insertion Under Power (RIUP) lets you replace modules while the system is in operation

Mount horizontally or vertically, with no de-rating required

Auto Device Replacement (ADR) reduces downtime

Add-on-Profiles in the Studio 5000 Logix Designer® application provide smooth integration into Integrated Architecture systems

Available with conformal coating
1734 POINT I/O Digital Modules
Input, output, and relay output modules

Wide variety of voltages

Point-level output fault states for short-circuit and wire-off diagnostics

Field-side diagnostics on select modules

Choice of direct-connect or rack-optimized communications

POINT Guard I/O™ modules for safety applications

Configurable modules

Each point can be configured as a DC input or output

Available with DeviceLogix™ technology
1734 POINT I/O Analog Modules
Up to eight single-ended inputs or outputs per module

Thermocouple and RTD modules available

Individually configurable channels

On-board scaling

Selectable input filters

Over- and under-range detection
1734 POINT I/O Specialty Modules
Counter and encoder modules

Synchronous Serial Interface Absolute Encoder module

Serial interface modules (RS-232, RS-485/RS-422)

Address Reserve (ARM) module

Supports connection to IO-Link enabled devices with the IO-Link master module
Certifications apply when product is marked. See our Product Certification site for Declarations of Conformity, certificates and other certification details. 
| Resource | Publication Number | Language |
| --- | --- | --- |
| POINT I/O Product Profile | 1734-PP001 | |
| POINT I/O Selection Guide | 1734-SG001 | |
| EtherNet/IP Embedded Switch Technology Application Guide | ENET-AP005 | |
| POINT I/O 4 Channel IO-Link Master Module Installation Instructions | 1734-IN043 | |
| POINT I/O Installation Instructions | 1734-IN510 | |
| POINT I/O Digital, Analog, and POINTBlock I/O Modules User Manual | 1734-UM001 | |
| High Speed Counter Module User Manual | 1734-UM003 | |
| Thermocouple and RTD Input Module User Manual | 1734-UM004 | |
| POINT I/O Encoder/Counter Modules User Manual | 1734-UM006 | |
| POINT I/O Synchronous Serial Interface Absolute Encoder Module User Manual | 1734-UM007 | |
| POINT I/O ASCII Modules User Manual | 1734-UM009 | |
| POINT I/O and ArmorPOINT I/O DeviceLogix User Manual | 1734-UM015 | |
| POINT I/O 4 Channel I/O Link Master Module User Manual | 1734-UM020 | |
| Integrated Smart Sensor Solution Quick Reference Guide | IOLINK-SP001 | |