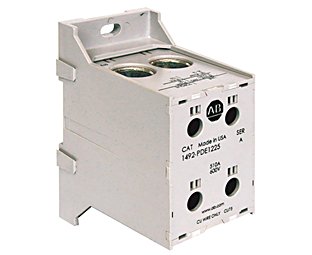 Our Bulletin 1492 Enclosed Power Terminal Blocks offer numerous connector configurations and IP20 protection from the front.
Multi-pole assembly possible with easily gangable units
Markers are available for easier terminal identification
High-fault short-circuit current rating (SCCR) up to 100 kA
Certifications
CE Marked for all applicable directives
CSA Certified
UL Recognized
File Numbers
CSA File Number LR67896, Class 6228-01
UL File Number E40735, Guide Number XCFR2
Standards Compliance
UL 1059 Approval E 40735, Guide XCFR2, except where noted as ∆ UL 1953 Listed E 313475 Guide QPQS
Certifications apply when product is marked. See our Product Certification site for Declarations of Conformity, certificates and other certification details.