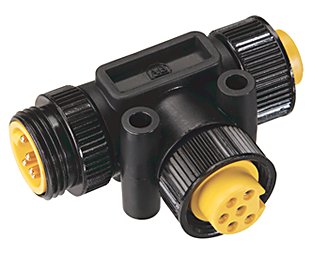 Bulletin 898N and 1485P Mini Splitters and Tees provide secure connections for proximity sensors, limit switches and photoelectric sensors. Connectors can be straight or right–angled and are physically keyed to prevent wiring mishaps. Our mini style cabling options include cordsets with integral male or female connector at one end and flying leads at the other. Our patchcord options include cable with integral connector at each end (one male, one female).
Offers 6, 12 and 20 ft lengths (standard)

Offers 2-, 3-, 4- and 6-pin connector types

Includes heavy-duty STOOW 16 AWG or standard 18 AWG cables

Provides highly visible yellow polyvinylchloride (PVC) jacket which resists oil and chemicals

Includes coiled cords

Includes 16 AWG: 600V

18 AWG: 300V
Certifications apply when product is marked. See our Product Certification site for Declarations of Conformity, certificates and other certification details.