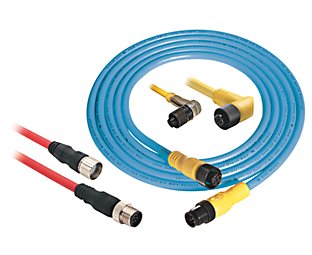 Our Bulletin 889 DC Micro (M12) Cordsets & Patchcords provide secure connections for proximity sensors, limit switches, photoelectric sensors and other field devices. Available with straight or right-angle 4- or 5-pin overmolded connectors, these cables feature a choice of materials and jacket colors, including red to identify safety applications. Some models include braided shielding for noise reduction and status indicators for power and output status indication.
Includes multiple jacket types: PVC, PUR, TPE, Toughlink™ and Toughweld™
Offers standard 1, 2, 5 and 10m lengths
Offers standard 16, 18, 22 and 24 AWG cable
Includes ratcheting coupling nut for added vibration resistance
Offers DC micro-to-mini and DC micro-to-pico cable models
Offers red cable jackets to identify safety networks on your machines
Certifications
CSA Certified

UL Recognized

UL 2238 Compliant
Certifications apply when product is marked. See our Product Certification site for Declarations of Conformity, certificates and other certification details.