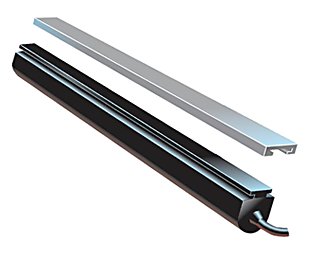 Various profiles available
Conductive rubber technology
Up to 50 m lengths
Aluminum, plastic or zinc-coated steel mounting rails
Rubber boot optional
Active corners
Sealing lip available
Additional Information
Protect your people, productivity, and environment with our Safety Components and integrated Safety Solutions. We understand your factory floor challenges and can help you meet your goals with one of the broadest safety portfolios in the industry.

Certifications
CE Marked for all applicable directives
TÜV 
C-Tick not required.
Standards Compliance
EN1760-2
EN 954-1
ISO13849-1
IEC/EN 60204-1
ANSI B11.19
AS 4024.5
Certifications apply when product is marked. See our Product Certification site for Declarations of Conformity, certificates and other certification details. 
General Safety Guidelines

Important User Information
Safety Guidelines and Warranties/Metric Conversions
Terms and Conditions of Sale
Maintenance of Industrial Control Equipment
IEC Enclosures
NEMA Enclosures

Selection Criteria

Flowchart
Tips
Navigator
Technology Overview

Safeguarding Applications and Wiring Diagram

Application Selection Table
Notes for Uses with Application Circuit Examples
Safeguarding Applications and Wiring Diagrams

Principles, Standards, and Implementation

Regulations
Standards
Safety Strategy
Protective Measures and Complementary Equipment
Safety Distance Calculation
Prevention of Unexpected Power-Up
Introduction to Safety-Related Control Systems
System Design According to ISO/EN 62061
Safety-Related Control System Structure Considerations