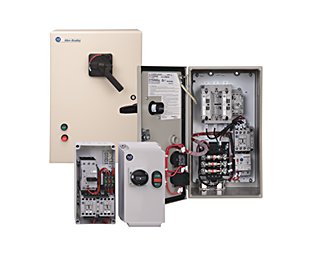 Compact with Motor Protection Circuit Breaker (103C/107C, 103H/107H)
Suitable for both indoor and outdoor applications

Compact size requires minimal installation space
Bulletins 103C/107C
Includes ranges of 1/8…10 Hp (0.1...16 A)

Provides plastic enclosure with ratings of IP66, Type 4/4X/12K

Offers vertical mounting of starter

cULus listed for control and protection of motor loads
Bulletins 103H/107H
Includes ranges of 1/8…30 Hp (0.1...43 A)

Provides metal enclosure with ratings of IP66, Type 3/4/12

Offers horizontal mounting of starter which allows space for mounting a control transformer

cULus listed for control and protection of motor loads
Metal Enclosure (106-C, 112-C/113-C)
Includes ranges of 1/8…250 Hp (0.1…300 A)

Provides metal enclosure with ratings of IP 42/66, Type 1/3/4/12

Offers horizontal mounting which allows space for mounting a control transformer
Bulletin 106-C/112-C offers short circuit protection up to 100 kA with fusible rotary disconnect
Bulletin 113-C offers short circuit protection up to 65 kA with molded case circuit breaker
Enhancements to Industrial Control Panels — We offer a wide range of packaged components, from high-availability standard enclosed motor starters to full customized industrial control panels. Watch Jeff Kilburn, Rockwell Automation, share some of the latest enhancements that include snap-together wiring technology and custom solutions to meet the unique challenges of OEMs and end users.

Our Industrial Automation and Control solutions help you build the most efficient industrial automation system to meet your needs.
Certifications apply when product is marked. See our Product Certification site for Declarations of Conformity, certificates and other certification details. 
| Resource | Publication Number | Language |
| --- | --- | --- |
| IEC Open and Enclosed Starters Product Profile | 100-PP006 | |
| Global Short Circuit Current Ratings Profile | SCCR-PP002 | |
| Regional Configuration Centre Quick Reference Guide | CMPNTS-QR002 | |
| IEC Contactor Specifications | 100-TD013 | |
| IEC Starter Approximate Dimensions Technical Data | 100-TD015 | |
| Motor Protection Circuit Breaker and Motor Circuit Protector Specifications | 140M-TD002 | |
| E1 Plus Overload Relay Specifications | 193-TD011 | |
| Rotary Disconnect Switch Specifications Technical Data | 194R-TD001 | |
| Industrial Components Preventive Maintenance, Enclosures, and Contact Ratings Specifications | IC-TD002 | |