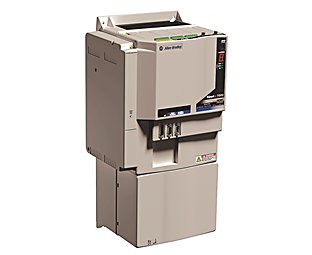 Our Bulletin 2099 Kinetix® 7000 Servo Drives support motion applications with the highest power requirements. With a power output up to 150 kW, this drive extends the benefits of Kinetix Integrated Motion to an even greater range of applications. The Kinetix 7000 servo drive fits seamlessly into your Integrated Architecture™ system. It supports for permanent magnet (synchronous) and induction (asynchronous) motors. Safety features help safeguard personnel while assisting in productivity improvements.
Popular Resources/Quicklinks
Integrated Architecture Brochure
Kinetix Motion Control Selection Guide
Kinetix Servo Drives Specifications Technical Data
Continuous power output of 112…150 kW
Input volts: 380…480V AC three-phase
Integrates seamlessly into the Logix platform for high-power single-axis integrated motion
Built on PowerFlex® power structure and Kinetix® control structure foundations
Supports permanent magnet (synchronous) and induction (asynchronous) motors
Integrates with the 8720MC Regenerative Power Supply (RPS) to provide motoring power and/or regenerative braking (8720MC Line Reactor required when using RPD module)
Built-in Safety Features:
Safe Torque-Off is certified at SIL3, and requires an external safety relay to meet EN954-1, Category 3. Prevents drive restarts after the safety circuit is tripped.
Additional Information
Protect your people, productivity, and environment with our Safety Components and integrated Safety Solutions. We understand your factory floor challenges and can help you meet your goals with one of the broadest safety portfolios in the industry.
Certifications apply when product is marked. See our Product Certification site for Declarations of Conformity, certificates and other certification details. 
Use the following software to program your Kinetix 7000 high-power servo drives.
| Resource | Publication Number | Language |
| --- | --- | --- |
| Integrated Architecture Brochure | IA-BR005 | |
| Kinetix Motion Control Selection Guide | KNX-SG001 | |
| Kinetix Servo Drives Specifications Technical Data | KNX-TD003 | |
| Kinetix Motion Accessories Specifications Technical Data | KNX-TD004 | |
| Kinetix 7000 Servo Drives User Manual | 2099-UM001 | |
| Kinetix 7000 Drive Systems Design Guide | GMC-RM007 | |
| Kinetix Safe-off Feature Safety Reference Manual | GMC-RM002 | |
Typical applications for Kinetix® 7000 servo drives include:
Paper

Metals

Converting

Packaging

Printing