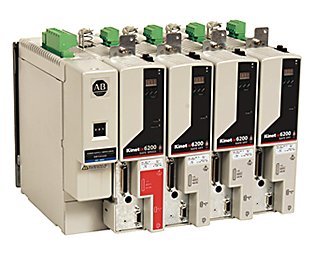 Continuous power output of 1.2…22 kW
Input volts: 324…528V AC three-phase
Modular design simplifies wiring, simplifies maintenance, reduces spare parts inventory, and helps you adapt quickly to technology enhancements
Safety features include Safe Stop, Zero Speed Monitoring, Safe Maximum Speed, Safe Direction Monitoring, Door Monitoring and Control, Enabling Switch Control and Safe Maximum Acceleration Monitoring
Safer access to guarded areas while operation continues under limited conditions
Reduces and monitors application speed so that an operator can safely inspect and perform limited work without completely stopping the machine
Built-in Safety Features:
Safe Torque-Off is certified at ISO 13849-1 PLe/SIL3. No external relay is required to meet EN954-1 Category 3. Prevents drive restarts after the safety circuit is tripped.
Safe Speed Monitor combines the Safe Torque-Off capability and an embedded safety relay with the Rockwell Automation® Safe-Speed Control core technology in one hardware option embedded in the drive. Certified PLe/SIL3.
Additional Information
Protect your people, productivity, and environment with our Safety Components and integrated Safety Solutions. We understand your factory floor challenges and can help you meet your goals with one of the broadest safety portfolios in the industry.
Certifications
CE-compliant
UL-listed to U.S. and Canadian safety standards
Certifications apply when product is marked. See our Product Certification site for Declarations of Conformity, certificates and other certification details. 
Use the following software to program your Kinetix 2000 Low-power Multi-axis servo drives.
| Resource | Publication Number | Language |
| --- | --- | --- |
| Integrated Architecture Brochure | IA-BR005 | |
| Kinetix Motion Control Selection Guide | KNX-SG001 | |
| Kinetix Servo Drives Specifications Technical Data | KNX-TD003 | |
| Kinetix 6200 and Kinetix 6500 Modular Multi-axis Servo Drives User Manual | 2094-UM002 | |
| Kinetix 6000 and Kinetix 6200/6500 Drive Systems Design Guide | GMC-RM003 | |
| Kinetix 6200 and Kinetix 6500 Safe Torque-off Safety Reference Manual | 2094-RM002 | |
| Kinetix 6200 Safe Speed Monitoring Safety Reference Manual | 2094-RM001 | |