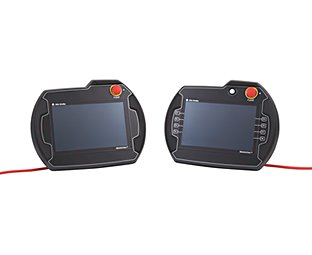 Provides operator terminal within line of sight of process
Includes 5 m, 10 m, or 15 m cables with quick connect and mounting bracket options
Offers software assignable function keys with either a hardwired momentary push button or key switch
Includes 3-position enabling switches
Offers 10 in. wide display (1280 x 800) with resistive touch screen for easy viewing
Features internal SD card for application and data log storage
Offers an illuminated E-stop, ability to work with the IP65 junction box, and the option to be used as a thin client
Certifications
cULus Listed
CSA Certified
CE Marked
RoHS
RCM (formerly C-Tick)
| Resource | Publication Number | Language |
| --- | --- | --- |
| Bulletin 2711T MobileView Tethered Operator Terminal Product Profile | 2711T-PP001 | |
| Bulletin 2711T MobileView Tethered Operator Terminals and Junction Boxes Technical Data | 2711T-TD001 | |
| How to Use a MobileView Terminal with Multiple IP20 Junction Boxes | 2711T-AT001 | |
| Bulletin 2711T MobileView Tethered Operator Terminal Bridge Connector Installation Instructions | 2711T-IN001 | |
| Bulletin 2711T MobileView Tethered Operator Terminal Quick Start Guide | 2711T-QS001 | |
| Bulletin 2711T MobileView 2nd Generation Tethered Operator Terminal Quick Start | 2711T-QS002 | |
| Bulletin 2711T MobileView Tethered Operator Terminal User Manual | 2711T-UM001 | |
| Bulletin 2711T MobileView Tethered Operator Terminal Product Information Sheet | 2711T-PC001 | |
| Bulletin 2711T MobileView 2nd Generation Tethered Operator Terminal Product Information | 2711T-PC002 | |
| Bulletin 2711T MobileView 2nd Generation Tethered Operator Terminal Mounting Bracket Cutout Template | 2711T-DS001 | |
| Bulletin 2711T MobileView IP20 Junction Box Cutout Template | 2711T-DS002 | |
| Bulletin 2711T MobileView Terminal VESA Mounting Bracket Cutout Template | 2711T-DS003 | |
| Bulletin 2711T MobileView 2nd Generation IP65 Junction Box Mounting Template | 2711T-DS004 | |
| PanelView Operator Interface Portfolio Features Comparison | 2711P-SP011 | |
Configuration and Selection Tools

Other Resources

Firmware Updates — Log in to get support for firmware updates.
Sample Code Library — Retrieve samples of code that have been developed by other users and post code that others might find helpful.
Knowledgebase — Visit our online resource for technical information, support chat and forums, software updates, and product safety advisories/notices.