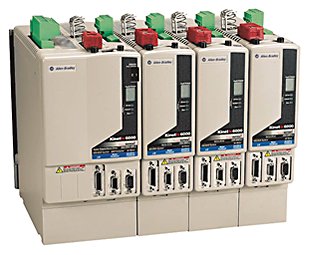 Continuous power output of 0.3…3.0 kW
Input volts: 195…265V AC three-phase and 324…528V AC three-phase
Accommodates 1…8 axes on Power Rail
Includes six inputs: 2 registration inputs, 1 home input, 2 over-travel inputs and 1 axis enable input
Integrates seamlessly into the Logix platform for multi-axis integrated motion
Greater flexibility in your machine design through compact size
Advanced control capabilities for greater precision and throughput
Reduces the total number of connections through simplified wiring and modular design
Built-in support for multi-turn absolute encoders to maintain position during power loss
Peak Enhancement configuration supports motion applications that require fast acceleration and deceleration for limited duration

Produces torque up to 250% of continuous rated current for limited duty cycles
Provides higher peak current, potentially downsizes the drive power supply and axis modules, and reduces required panel space
Built-in Safety Features:
Safe Torque-off is certified at ISO 13849-1 PLe/SIL3, and requires an external safety relay to meet EN954-1, Category 3. Prevents drive restarts after the safety circuit is tripped.
Protect your people, productivity, and environment with our Safety Components and integrated Safety Solutions. We understand your factory floor challenges and can help you meet your goals with one of the broadest safety portfolios in the industry.
Certifications
CE-compliant
UL-listed to U.S. and Canadian safety standards
| Resource | Publication Number | Language |
| --- | --- | --- |
| Integrated Architecture Brochure | IA-BR005 | |
| Kinetix Motion Control Selection Guide | KNX-SG001 | |
| Kinetix Servo Drives Specifications Technical Data | KNX-TD003 | |
| Kinetix Motion Accessories Specifications Technical Data | KNX-TD004 | |
| Kinetix 6000 and Kinetix 6200/6500 Drive Systems Design Guide | GMC-RM003 | |
| Kinetix Safe-off Feature Safety Reference Manual | GMC-RM002 | |
Configuration & Selection Tools
Other Resources
Knowledgebase — Visit our online resource for technical information, support chat and forums, software updates, and product safety advisories/notices.