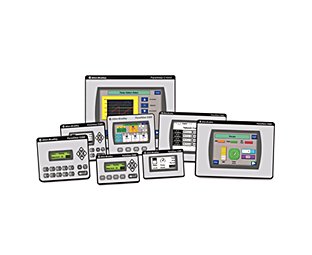 Our Bulletin 2711C-F2M, 2711C-K2M, 2711-K3M and 2711C-T3M Graphic Terminals are discontinued and no longer available for sale. Bulletin 2711C-T10C, 2711C-T4T, 2711C-T6M and 2711C-T6T are discontinued and no longer available for sale.
To support your transition, we recommend migrating to the PanelView 800 Graphic Terminals. These graphic terminals are designed with the same functionality and better performance of higher processor speed, higher memory and better display color and resolutions, which provide an ideal replacement to support most PanelView Component applications.
For more information see the PanelView Component Graphic Terminals to PanelView 800 Graphic Terminals Migration Profile.
Migration Solutions
Demanding market conditions pose significant challenges. Across the enterprise and throughout the lifecycle, you must continuously strive for ways to leverage your existing automation investment.
Let Rockwell Automation help you determine your migration options and show you the benefits, including better performance, more informed business decisions, reduced maintenance costs, and quicker response to changing market demands.
Use the Product Lifecycle Status search tool to find specific lifecycle information by catalog number.
Learn more about our Migration Solutions.
Certifieringar
C-ul-US-listad
CE-märkt
C-Tick
KC
Certifications
cULus Listed
CE Marked
C-Tick
KC
| Resource | Publication Number | Language |
| --- | --- | --- |
| PanelView Component Graphic Terminals till PanelView 800 Grafiska operatörspaneler Migreringsprofil | MIGRAT-PP016 | |
| Urvalsguide för visualiseringslösningar | VIEW-SG001 | |
| PanelView Component HMI terminaler Snabbstart | 2711C-QS001 | |
| PanelView Component Användarmanual | 2711C-UM001 | |
| PanelView Component Specifikationer Tekniska data | 2711C-TD001 | |
Verktyg för konfiguration och urval
 Andra resurser
Diverse
Upphandlingsspecifikationer — Besök vår onlineresurs för att hitta upphandlingsspecifikationer för denna produkt.
Knowledgebase — Besök våra onlineresurser för teknisk information, supportchatt och -forum, programvaruuppdateringar och produktsäkerhetsråd/-meddelanden.