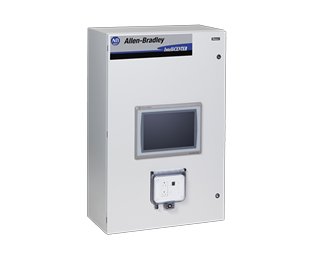 Uses standard hardware and software to bring IEC 61850 traffic into Logix architecture which delivers ease-of-use

Contains a ProSoft gateway for communication bridging

Consists of a Stratix® 5700 switch for aggregation of device connections and segmentation
Includes a ControlLogix® or CompactLogix™ controller rack

Includes options for PanelView™ terminal for data representation

Contains a Stratix Security Appliance if unsecured upstream connections are required

Offers faceplates to help verify the appropriate device for your application and deliver a common user interface
Learn how the information from our portfolio of Intelligent Motor Control can position you to make better operating decisions, improve system performance, and gain operation efficiencies.
Standards Compliance
UL 508A

EN55022

IEC 60950-1

EN55024

IEC 60950-22 VCCI, FCC, Part 15, Subpart B ICES-003
| Resource | Publication Number | Language |
| --- | --- | --- |
| IntelliCENTER Integration Unit Product Profile | 3300A-PP001 | |
| IntelliCENTER IEC 61850 Integration Unit Specifications Technical Data | 3300A-TD001 | |
| IntelliCENTER IEC 61850 Integration Unit Installation Instructions | 3300A-IN001 | |
| Integrated Power and Automation Architecture Drawings | IASIMP-QR006 | |
| Integrated Power and Automation Reference Manual | 3300A-RM001 | |
| Rockwell Automation Library of Electrical Protection Devices | PROCES-RM011 | |
Software Updates
IntelliCENTER® Software Version 2.0.3 Service Pack 4 (March 2010)

Service Pack 4 (SP4) can only be applied to IntelliCENTER software version 2.0.3. It provides added support for Bulletin 193-EC5 E3 Plus Electronic Overload Relay with voltage and power monitoring and for PowerMonitor™ 3000 (version 4). It also provides DriveExecutive integration for PowerFlex® 753 and PowerFlex 755 AC drives.

IntelliCENTER® Software Version 1.4.7 Service Pack 5 (January 2006)

Service Pack 5 (SP5) can only be applied to IntelliCENTER software version 1.4.7. It fixes an anomaly with writing to parameters in an E1+ Electronic Overload. It also fixes a rare anomaly which caused values to be reported incorrectly in the Monitor View.
Configuration & Selection Tools
CENTERLINE Builder Tool — Use CENTERLINE® Builder to design your CENTERLINE MCC line up. This tool allows you to enter general MCC setup information with key characteristics, add units, and create the MCC design. The tool generates a layout drawing, single-line diagram, and typical schematic drawings customized to your project requirements. (Sign-in required).
Other Resources
Cost Savings Calculator — This tool shows you the cost benefits of selecting a smart networked motor control solution compared to a traditional hardwired solution.
Knowledgebase — Visit our online resource for technical information, support chat and forums, software updates, and product safety advisories/notices.