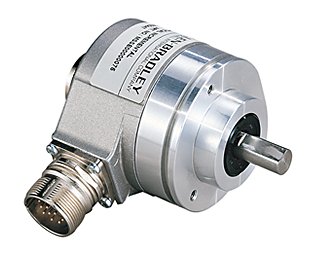 Bulletin 842A Multi-Turn Magnetic Encoder is a 25-bit absolute multi-turn shaft encoder. It provides up to 8192 pulses per turn or a maximum of 8192 turns. It uses a technology called Synchronous Serial Interface (SSI) to provide 24-bit resolution over just 5 wires. The SSI output from the 842A encoder can be interfaced in several different ways.
Popular Resources/Quicklinks
842A Absolute Encoders Installation Instructions
Reduced wiring cost and complexity
Noise immunity achieved via differential communication format
Simplified start-up
Choice of gray code or natural binary formats
Configuration & Selection Tools
CrossWorks — Convert competitive catalog numbers to similar Allen-Bradley® products.
ProposalWorks — Build complete quotes and proposals.
Other Resources
Knowledgebase — Visit our online resource for technical information, support chat and forums, software updates, and product safety advisories/notices.