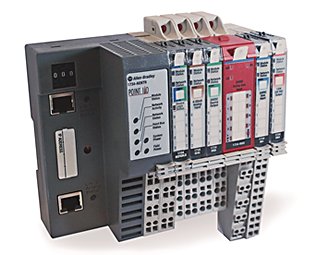 Modular design lets you independently select the I/O, termination style, and network interface

Modules slide together for easy install and uninstall for easier maintenance

Removable wiring system saves time and money during installation and troubleshooting

Comprehensive diagnostics and configurable features makes POINT I/O™ easy to apply

Removal and Insertion Under Power (RIUP) lets you replace modules while the system is in operation

Mount horizontally or vertically, with no de-rating required

Auto Device Replacement (ADR) reduces downtime

Add-on-Profiles in the Studio 5000 Logix Designer® application provide smooth integration into Integrated Architecture systems

Available with conformal coating
1734 POINT I/O Digital Modules
Input, output, and relay output modules

Wide variety of voltages

Point-level output fault states for short-circuit and wire-off diagnostics

Field-side diagnostics on select modules

Choice of direct-connect or rack-optimized communications

POINT Guard I/O™ modules for safety applications

Configurable modules

Each point can be configured as a DC input or output

Available with DeviceLogix™ technology
1734 POINT I/O Analog Modules
Up to eight single-ended inputs or outputs per module

Thermocouple and RTD modules available

Individually configurable channels

On-board scaling

Selectable input filters

Over- and under-range detection
1734 POINT I/O Specialty Modules
Counter and encoder modules

Synchronous Serial Interface Absolute Encoder module

Serial interface modules (RS-232, RS-485/RS-422)

Address Reserve (ARM) module

Supports connection to IO-Link enabled devices with the IO-Link master module
Additional Information
Our DeviceLogix Smart Component Technology integrates logic-solving capability into I/O, motor starters, push buttons, and other control components, delivering higher-performance and lower-cost distributed control.
Protect your people, productivity and environment with our integrated Safety Solutions. We understand your factory floor challenges and can help you meet your goals, using one of the broadest safety portfolios in the industry.
Our Integrated Architecture Solutions provide the foundation to drive plantwide optimization efficiently and effectively, enabling you to respond competitively to the economy and changes in consumer demand.
Our PartnerNetwork™ offers complementary product solutions for 1734 Point I/O modules and 1734 POINT I/O Add On Profiles through the Encompass Product Reference program. You can sort and filter products from best-in-industry suppliers in your region to connect to the Rockwell Automation® architecture, or to use with our products.

Sensors on IO-Link Can Enable the Connected Enterprise — Find out how smart sensors with IO-Link can enable smart machines for The Connected Enterprise®.

IO-Link Technology allows sensors connected to an IO-Link master module to provide detailed diagnostics and machine health status to improve uptime and increase productivity.
Certifications apply when product is marked. See our Product Certification site for Declarations of Conformity, certificates and other certification details. 
| Resource | Publication Number | Language |
| --- | --- | --- |
| POINT I/O Product Profile | 1734-PP001 | |
| POINT I/O Selection Guide | 1734-SG001 | |
| EtherNet/IP Embedded Switch Technology Application Guide | ENET-AP005 | |
| POINT I/O 4 Channel IO-Link Master Module Installation Instructions | 1734-IN043 | |
| POINT I/O Installation Instructions | 1734-IN510 | |
| POINT I/O Digital, Analog, and POINTBlock I/O Modules User Manual | 1734-UM001 | |
| High Speed Counter Module User Manual | 1734-UM003 | |
| Thermocouple and RTD Input Module User Manual | 1734-UM004 | |
| POINT I/O Encoder/Counter Modules User Manual | 1734-UM006 | |
| POINT I/O Synchronous Serial Interface Absolute Encoder Module User Manual | 1734-UM007 | |
| POINT I/O ASCII Modules User Manual | 1734-UM009 | |
| POINT I/O and ArmorPOINT I/O DeviceLogix User Manual | 1734-UM015 | |
| POINT I/O 4 Channel I/O Link Master Module User Manual | 1734-UM020 | |
| Integrated Smart Sensor Solution Quick Reference Guide | IOLINK-SP001 | |