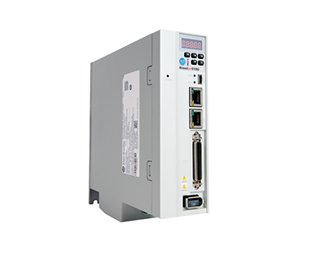 Our Bulletin 2198 Kinetix® 5100 Servo Drives provide a scalable option for servo solution in a single product. This drive offers an extended power range solution to 15kW to support stand-alone, Micro 800, or Logix controlled applications. Kinetix 5100 drives come with standard inputs and outputs, different mode of controls, plus Safe Torque Off and dual port EtherNet/IP for various network topologies.
Find a Product Partner
What's New
Kinetix 5100 servo drives paired with Kinetix TLP servo motors are now available in 400V to support even more flexible, standalone machines.
Offers more comprehensive power range than comparable solutions (50W...2kW at 120...230V and 3...15kW at 230V)
Delivers safety features without additional parts or wiring with standard hardwired Safe Torque Off (STO)
Features 10 freely assignable digital inputs (2 can be used as fast input functions) and 5 freely assignable digital outputs
Provides indexing function (with 99 segments) which allows more motion commands than comparable solutions without the need for a control system
Offers select stand-alone, Micro800™ or Logix control for a range of performance needs
Helps control system resonance with auto tuning features
Allows for control mode changes (i.e. speed to torque) on the fly

Integrates easily into Logix applications with specially designed AOI's
Certifications
c-UL-us Listed
CE Marked
KC
RCM
| Resource | Publication Number | Language |
| --- | --- | --- |
| Kinetix 5100 Servo Drive & Kinetix TLP Servo Motor Product Profile | KINETIX-PP001 | |
| Kinetix Motion Control Selection Guide | KNX-SG001 | |
| Kinetix Servo Drives Specifications Technical Data | KNX-TD003 | |
| Kinetix Motion Accessories Specifications Technical Data | KNX-TD004 | |
| Kinetix 5100 Single-axis EtherNet/IP Servo Drives User Manual | 2198-UM004 | |
| Kinetix 5100 Drive Systems Design Guide | KNX-RM011 | |