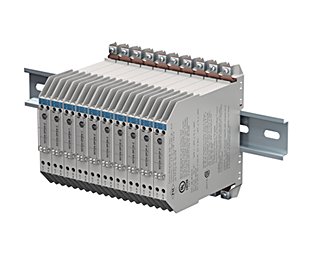 Our Bulletin 937Z Zener Barriers provide protection for electrical signals within hazardous areas. These barriers feature a narrow profile of just 12.5 mm to maximize control panel space. They also prevent the transfer of unacceptably high energy from the safe area into the hazardous area. Our Zener Barriers include positive polarity, which means the anodes of the Zener diodes are grounded. Depending on the application, increased or decreased intrinsic safety parameters apply for serial or parallel connection.
Includes standard DIN rail snap on mounting for easy installation and grounding
Includes one- or two-channel barriers, 646 or 327 Ohm maximum resistance
Provides diode return feature to prevent a current into the hazardous area
Offers a high power version with a smaller serial resistance which provides higher voltage to the field device
Uses Zener diodes to limit electrical energy in hazardous environments
Zener Barrier Intrinsic Safety Modules are used in any application with Class 1, Division 1 (Zones 0 and 1) hazardous locations such as:
Chemical
Petrochemical
Oil and Gas
Certifications
You can see a list of certifications for the Bulletin 937Z Zener Barriers by product number and link to the pdf of the certification document.
Certifications apply when product is marked. See our Product Certification site for Declarations of Conformity, certificates and other certification details.