Our FLEX 5000™ I/O modules are a rugged and flexible distributed I/O solution, which allows you to choose your I/O to meet your operational needs. FLEX 5000 I/O enhances communication with 1 Gb EtherNet/IP™ connectivity, which offers higher speed and increased bandwidth. To provide flexibility in your network architecture, these modules includes 2 copper or 2 fiber ports (SFP) and support for DLR, Star, Linear, and PRP topologies.
What's New?
Meet fail-safe requirements with the new FLEX 5000 analog safety I/O modules
Gain greater productivity and increased protection in a wider range of applications with our FLEX 5000 portfolio of discrete and analog fail-safe I/O modules. The new analog safety additions help meet more fail-safe requirements and minimize related downtime risks, where speed/frequency measurement, temperature sensors, pressure and flow sensor monitoring are required for functional safety protection.
Offers integrated safety with systematic capability up to SC 3 (SIL 2 and SIL 3), TÜV certified up to SIL 3, PLe, Cat. 4, with up to 10 ms safety reaction time

Minimize downtime through easy access to additional process diagnostics via highly integrated HART in the Studio 5000 Logix Designer® application 

Reduce system costs and complexity by mounting standard and safety I/O modules In the same I/O bank 

Ideal for hybrid and Process applications such as emergency shutdown, burner management, turbine control, compressor control, oil and gas auxiliary boilers, high-pressure protection, lighting and ventilation management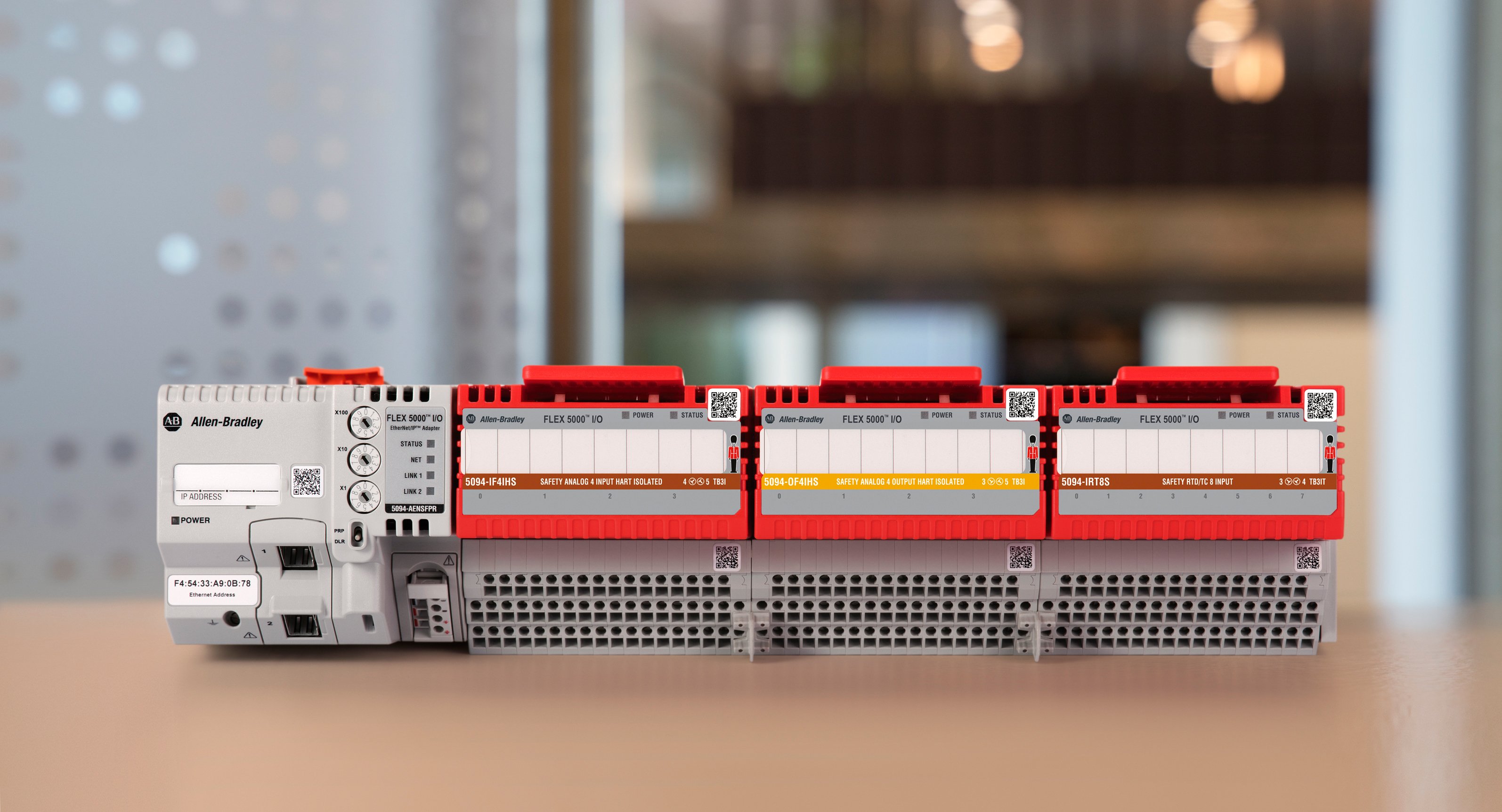 Offers true integrated safety with discrete and analog fail-safe I/O modules, TÜV certified up to SIL 3/PLe/Cat. 4

Enhances communication with 1 Gb EtherNet/IP connectivity through copper or fiber, with SFP adapters

Supports a wide range of network topologies: Device Level Ring, Star, Linear and Parallel Redundancy Protocol

Optimizes footprint with horizontal or vertical installation

Allows users to replace modules while system is in operation with easy snap-on installation via Removal and Insertion Under Power (RIUP)


Offers flexible and modular capability to support up to 32-channel digital and 8-channel analog input/output

Operates in -40…+70 °C (-40...+158 °F) temperatures and in hazardous areas in Class I, Division 2, Zone 2, Groups A, B, C, D

Allows for use in extreme environments with XT version up to G3 with conformal coating, which helps protect against environmental stresses

Functions as remote I/O modules with ControlLogix® 5580, CompactLogix™ 5380 and CompactLogix 5480 standard controllers and with GuardLogix® 5580 and Compact GuardLogix 5380 safety controllers
Supports ControlLogix® 5580 controller redundancy for high availability applications from Studio 5000 Logix Designer application, version 33 or later


Allows access to highly integrated HART devices available in the I/O tree

Provides easy access to device health via the enhanced diagnostics

Reduces engineering through tight integration with PlantPAx 5.0 and above instruction set

Simplifies maintenance with visibility to device tag diagnostics based on Device Description (DD) files

Reduces downtime by adding and replacing Process devices online

Increases productivity with easier device configuration of process devices via embedded device type managers (DTM)
Certifications
ATEX
CE
c-UL-us
IECEx
KC
RCM
| Resource | Publication Number | Language |
| --- | --- | --- |
| Integrated Architecture Brochure | IA-BR005 | |
| FLEX 5000 I/O Modules Product Profile | 5094-PP001 | |
| FLEX 5000 Modules Specifications Technical Data | 5094-TD001 | |
| FLEX 5000 Digital I/O Modules User Manual | 5094-UM001 | |
| FLEX 5000 Analog I/O Modules User Manual | 5094-UM002 | |
| FLEX 5000 High-speed Counter Module User Manual | 5094-UM003 | |
| FLEX 5000 Safety Frequency Input Modules User Manual | 5094-UM004 | |
| FLEX 5000 EtherNet/IP Adapter User Manual | 5094-UM005 | |
| FLEX 5000 Analog Isolated Current/Voltage/HART 5094-UM007 English Standard and Safety I/O Modules User Manual | 5094-UM007 | |
| EtherNet/IP Communication Modules in 5000 Series Systems User Manual | ENET-UM004 | |