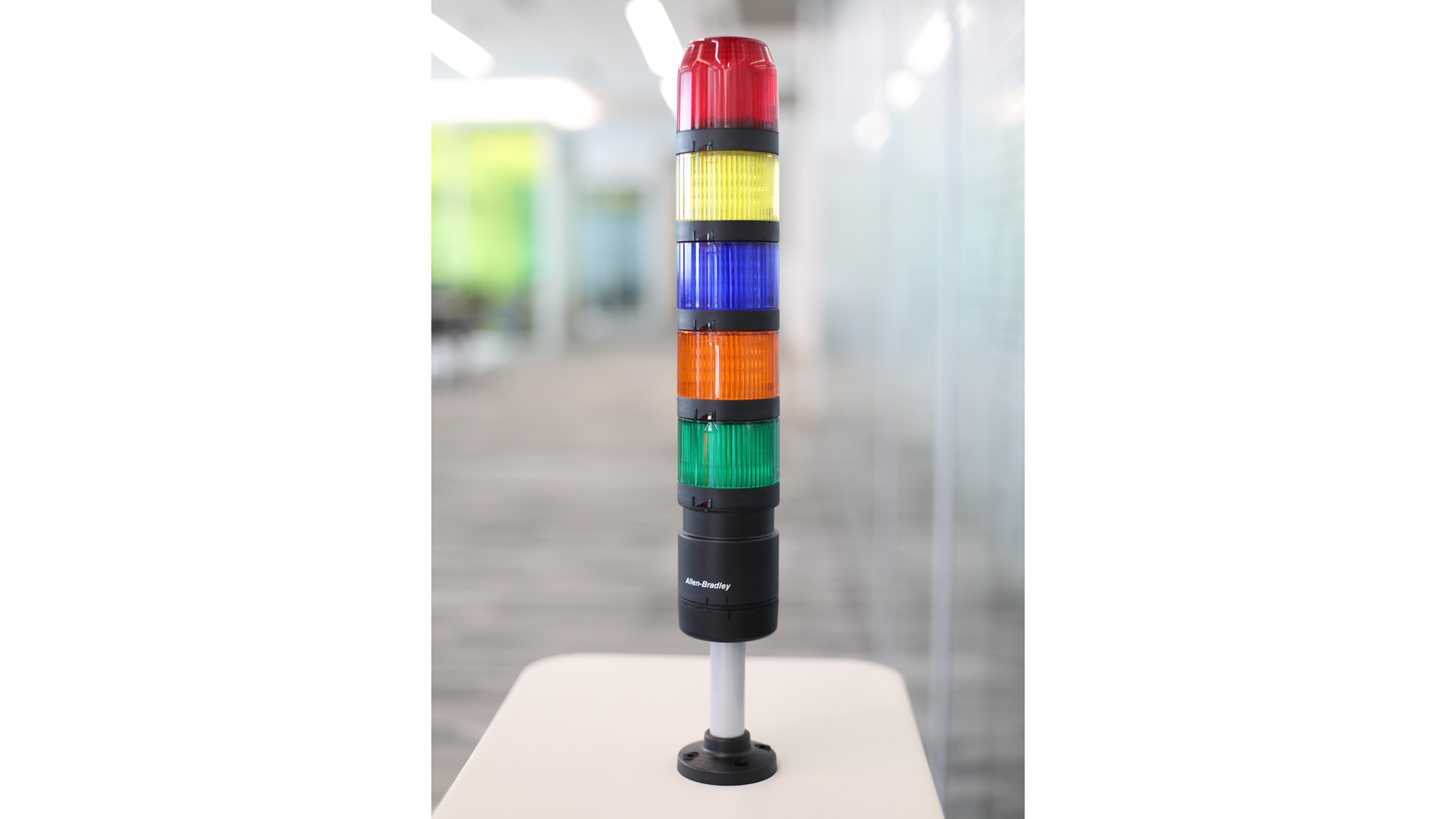 Available with IO-Link Connectivity
Nuestro sistema de columnas luminosas Control Tower™ Boletín 856T proporciona a los usuarios la máxima flexibilidad, ya que se puede usar en un amplio rango de aplicaciones con una cantidad reducida de componentes. Este sistema posee un diseño modular que incorpora luces LED más brillantes y ofrece tecnología de sonido muy variada. Todas las señales del sistema funcionan con CA/CC de 24 V: solo tres módulos de alimentación eléctrica son suficientes para todo el sistema.
Connection over IO-Link makes the 856T Control Tower Stack Lights smart devices that provide real-time insight into the status of your control system while providing connectivity through The Connected Enterprise.
Brinda un funcionamiento confiable en las condiciones ambientales más exigentes con una clasificación de ingreso IP66/67
La selección es más sencilla gracias a la reducida cantidad de componentes
Incluye módulos de luz multifunción de varios canales y alarmas que disminuyen el tiempo de instalación y configuración
Incluye microinterruptores internos para seleccionar el módulo o la función
Ofrece una serie de diferentes opciones de sonido para complementar la indicación visual
Para una óptima flexibilidad, están disponibles para la compra como componentes separados o como columnas luminosas montadas en fábrica y preconfiguradas.
Getting started with the IO-Link 856T Control Tower Stack Light
Use this instructional installation video to get started with your IO-Link 856T Control Tower™ Stack Light.
Configure Your 856T Control Tower IO-Link Stack Light and Sound Module
Learn how to configure your 856T Control Tower™ IO-Link Stack Light and Sound Module with Studio 5000® Logix Designer.
Homologaciones
Clasificación c-UL-us (archivo n.º E14840, guías NKCR, NKCR7)
Etiqueta CE
RoHS de China
KCC (N.º de registro: R-REM-RAA-856T)
RCM (EN 61000-6-2:2005 and EN 61000-6-3:2007 + A1:2011)
WEEE
Cumplimiento normativo
UL 60947-5-1
CSA C22.2 N.º 14
CE (EN 60947-5-1:2004 + A1:2009; EN 61000-6-2:2005; EN 61000-6-3:2007 + A1:2011; EN 50581: 2012 [2014/35/EU - Directiva de bajo voltaje, 2014/30/UE - Directiva sobre compatibilidad electromagnética y 2011/65/UE - Directiva de restricción de sustancias peligrosas])
| Resource | Publication Number | Language |
| --- | --- | --- |
| Descripción de producto Control Tower Boletín 856T de 70 mm | 856T-PP001 | |
| Perfil de migración del sistema de señalización Control Tower Boletín 855T a 856T de 70 mm | MIGRAT-PP036 | |
| Datos técnicos de especificaciones de señalización | 855-TD001 | |
| Bulletin 855T to 856T 70mm Control Tower Signaling System Migration Profile | MIGRAT-PP036 | |
| Signaling Specifications Technical Data | 855-TD001 | |
| Control Tower IO-Link Class B Light and Sound Module Controller User Manual | 856T-UM001 | |
| Bulletin 856T Control Tower Installation Instructions | 856T-IN013 | |