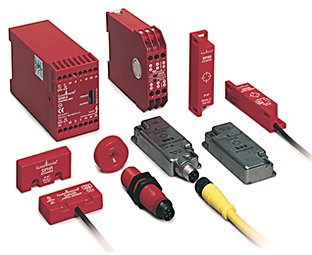 Our Sipha™ Control Units monitor and control Sipha non-contact safety sensors. For high-risk applications, the control unit is used with a single Sipha sensor to give a high-integrity system. For other applications, multiple sensors (including mechanical switches) can be connected to a single Sipha control unit.
Popular Resources/Quicklinks
Sipha Control Units Installation Instructions
Interfaces for Sipha noncontact safety sensors
Includes magnetic coded sensing
Acts as a safety relay
Offers 24V AC/DC, 110V AC or 230V AC operation (depending on model)
Sipha 6 unit has wiring terminals for up to six sensors
Offers multiple safety and auxiliary output configurations
Additional Information
Protect your people, productivity, and environment with our Safety Components and integrated Safety Solutions. We understand your factory floor challenges and can help you meet your goals with one of the broadest safety portfolios in the industry.
Certifications
CE Marked for all applicable directives
cULus
TÜV
Standards Compliance
EN 954-1
ISO 13849-1
IEC/EN 60204-1
NFPA 79
EN 1088
ISO 14119
IEC/EN 60947-5-1
ANSI B11.19
AS4024.1  
Certifications apply when product is marked. See our Product Certification site for Declarations of Conformity, certificates and other certification details.