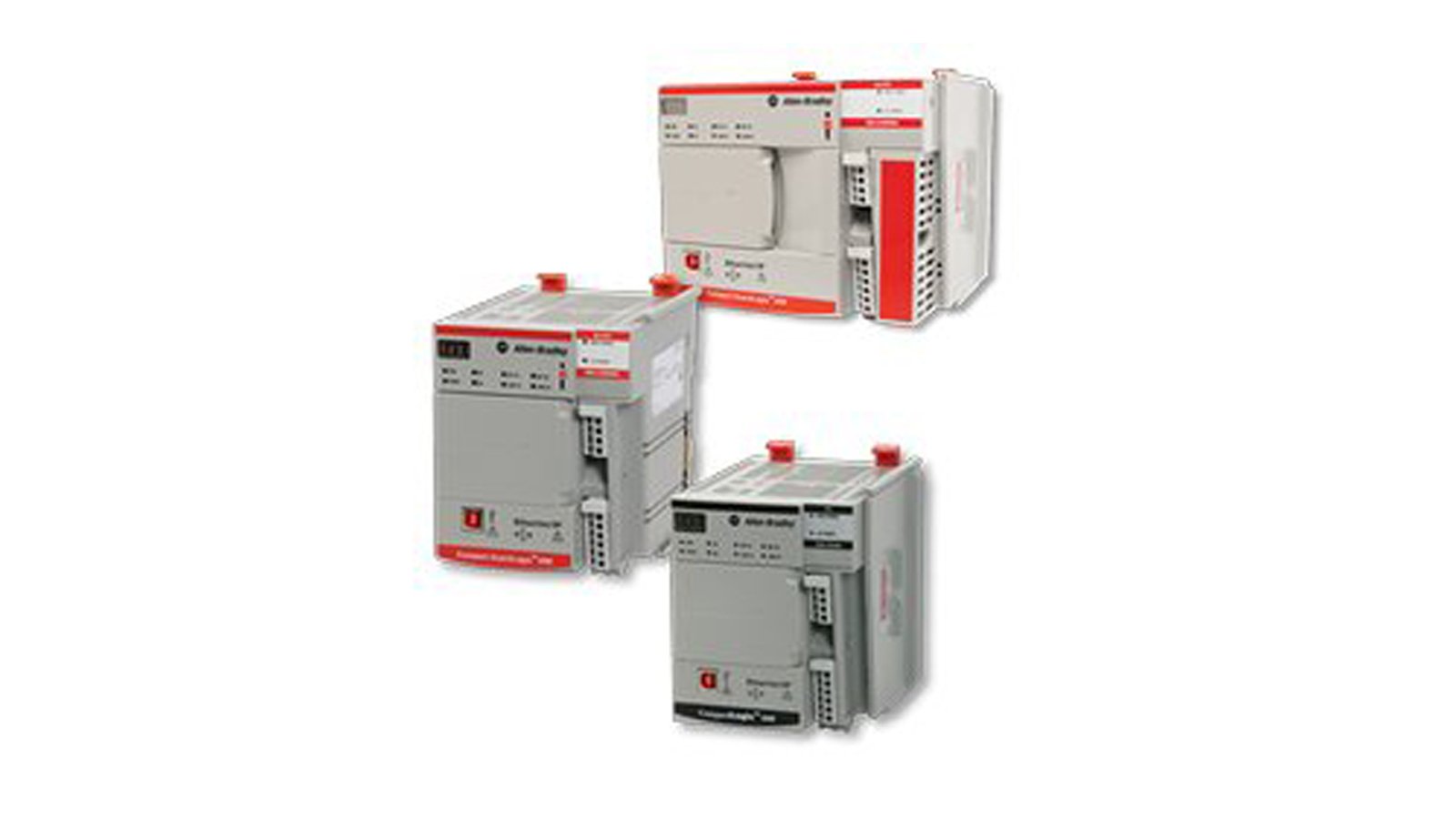 Our CompactLogix™ and Compact GuardLogix® 5380 controllers provide higher performance, increased capacity, improved productivity and enhanced security to help meet the growing demands of smart machines and equipment for manufacturing. All standard and safety controllers use a modern programming environment, Studio 5000 Logix Designer® application, to allow users to work collaboratively to design and maintain their systems. This common environment optimizes efficiency, reduces time to commission and manages integrated motion over EtherNet/IP™ for high-speed motion applications and up to SIL 3/PLe safety solutions. These controllers are ideal for applications requiring high-performance communications, I/O and motion control for up to 32 axes.
Popular Resources/Quicklinks
CompactLogix 5380 Controller Product Profile
SLC 500 to CompactLogix 5380 and 5069 Compact I/O Migration Profile
CompactLogix 1768-L4x Controller to CompactLogix 5380 Controller Migration Profile
Ease Workflow with CompactLogix 5380 Process Controller
Process-focused controller for industries such as Food & Beverage, Oil & Gas, Chemical, Plastics, Life Sciences, Metals & Mining

Incorporates the functionality of standard controller including motion and conformal coating

Tight integration with PlantPAx® 5.0 system reduces the need to import Add-On Instruction
Subscribe and receive diagnostic information through FactoryTalk® View Site Edition without additional programming
Recognize process controller with catalog numbers 5069-L320ER

P

and 5069-L340ER

P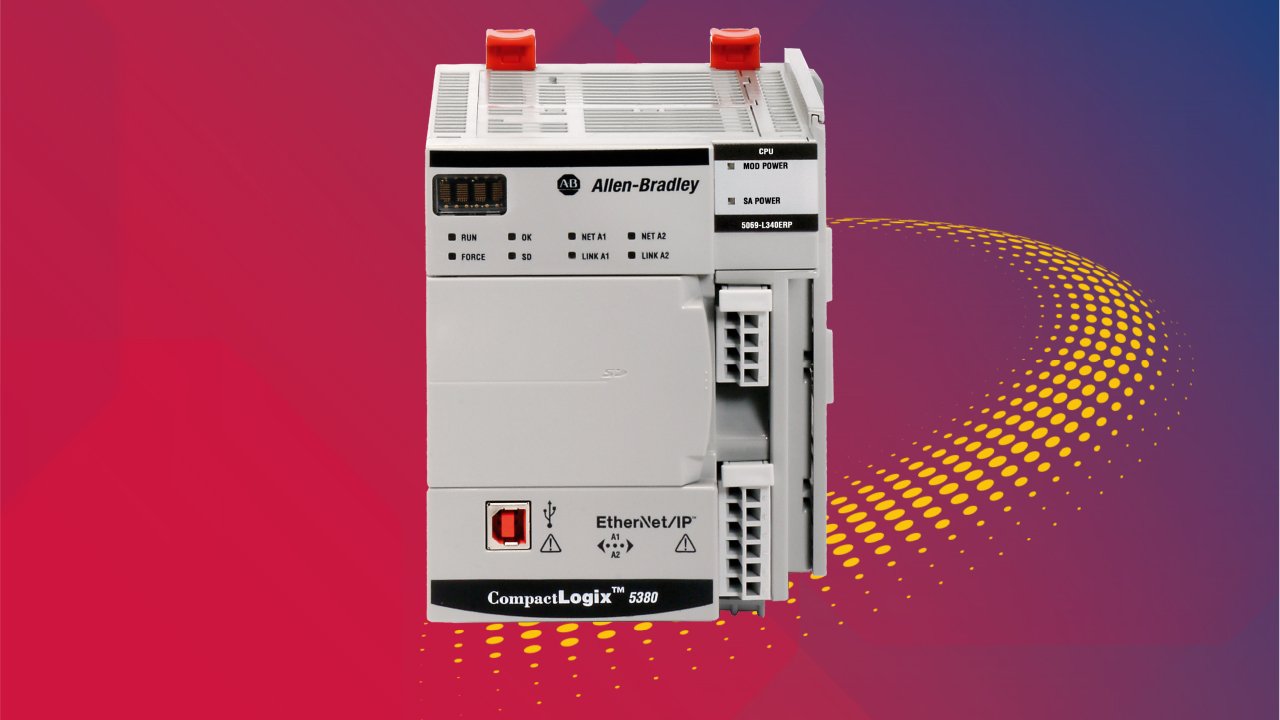 Ideal for small to large applications that require low axis motion and I/O point counts
Enable high-speed I/O, motion control, Device Level Ring and Linear topologies
Offer a 1 gigabit (Gb) embedded EtherNet/IP port that enables CIP safety connections, I/O and safety devices
Include dual configurable ports that support Dual-IP address
Provide enhanced diagnostics and troubleshooting with controller status and fault display
Offer controller functions optimized for maximum system performance
Offer enhanced security features that include controller-based change detection, logging, encrypted firmware and role-based access control to routines and Add-On Instructions
Support up to 31 local Compact 5000™ I/O modules
Offer integrated motion on EtherNet/IP up to 32 axes
Offer a wide range of memory options from 0.6...10 MB
Compact GuardLogix® 5380 safety controllers
Achieve up to SIL 2/PLd with 1oo1 architecture or up to SIL 3/PLe with 1oo2 architecture
Offer standard memory options from 0.6…10 MB
Offer safety memory options from 0.3…5 MB
Offer 1 gigabit (Gb) embedded Ethernet port
Support communication options for up to 180 EtherNet/IP nodes
Offer conformal coated options for harsh environments
Provide single controller/software/network for standard and safety control
Ability to mix and match safety and standard I/O
Provide integrated safety functions with drives and motion
Certifications
ATEX
CE
c-UL-us
EtherNet/IP
IECEx
KC
RCM
TUV Rheinland
UL Listed
Certifications apply when product is marked. See our Product Certification site for Declarations of Conformity, certificates and other certification details. 
| Resource | Publication Number | Language |
| --- | --- | --- |
| CompactLogix 5380 Controller Product Profile | 5069-PP003 | |
| SLC 500 to CompactLogix 5380 and 5069 Compact I/O Migration Profile | MIGRAT-PP004 | |
| CompactLogix 1768-L4x Controller to CompactLogix 5380 Controller Migration Profile | MIGRAT-PP037 | |
| CompactLogix 5380 and Compact GuardLogix 5380 Technical Data | 5069-TD002 | |
| CompactLogix 5380 and Compact GuardLogix 5380 Controllers User Manual | 5069-UM001 | |
| GuardLogix 5580 and Compact GuardLogix 5380 Controller Systems Safety Reference Manual | 1756-RM012 | |
| Logix5000 Controllers Common Procedures Programming Manual | 1756-PM001 | |
| Logix5000 Controllers Design Considerations Reference Manual | 1756-RM094 | |
| Replacement Guidelines: Logix5000 Controllers | 1756-RM100 | |
Our CompactLogix 5380 controllers offer the memory, speed, and processing capabilities to meet the demands of basic plant floor applications to high performance process, motion, and safety applications that include:
Industries
Food and Beverage

Water/Wastewater

Mining/Metals/Cement

Oil and Gas

Semiconductors and Electronics

Automotive

Marine

Life Sciences
Applications
Blistering

Feeders

Labeling and wrapper

Packaging

Vertical Form Fill and Seal