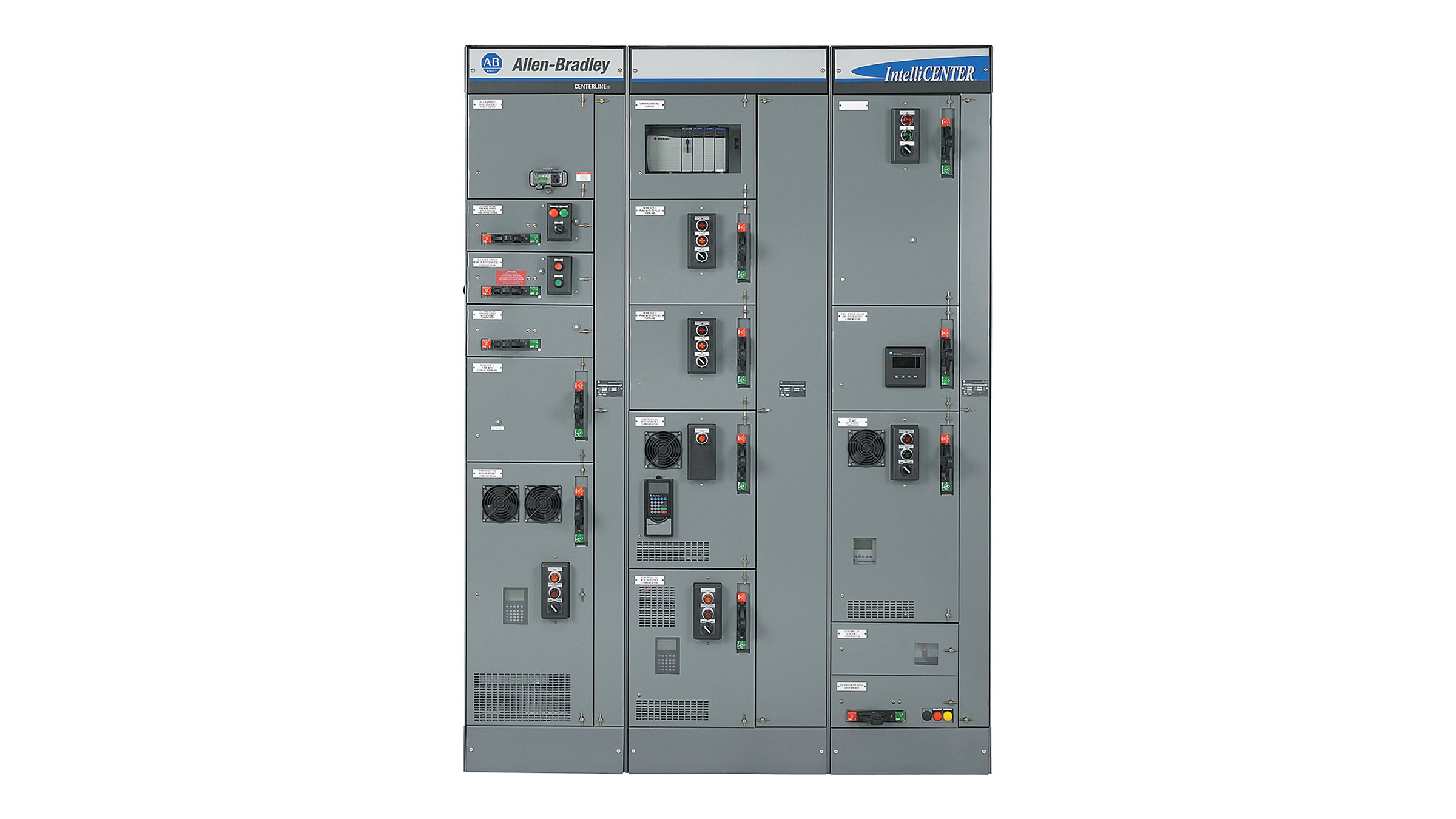 Our CENTERLINE® 2100 NEMA Motor Control Centers (MCCs) combine rugged durability and premium quality, and integrate control and power into one centralized package. Our industry-leading MCCs meets UL and NEMA standards and offer solutions for networking, communications and safety.
Put a PowerFlex 755TS AC Drive in CENTERLINE 2100 MCCs
The 6-pulse PowerFlex 755TS drives deliver real-time performance data, predictive analytics, adaptive control, high-performance motor control and more. This VFD is an uptime machine. The variable frequency drive is engineered for countless motor control applications and industries. It can be applied throughout a plant for traditional VFD applications and for applications that require high-performance motor control for precise speed, torque and positioning.
Designs meet UL 845
Short circuit withstand rating up to 100 kA
Compatible with ArcShield™ arc resistant MCCs
Available horsepower ratings:

1…350 Hp normal duty at 480V AC
1…300 Hp heavy duty at 480V AC

High-speed class J Fuses included for compliance with UL 61800-5-1
High short circuit withstand ratings in type-tested enclosure


Continuous bus bracing provides uniform support

Durable NEMA components

Factory tested for faster and more dependable startup

Provides design to allow for backward compatibility

Includes center-mounted bus design to improve heat dissipation

Provides solid grounding system to help reduce shock hazards

Easily integrates functional safety solutions for PowerFlex 755 and PowerFlex 753 units that include SISTEMA files and make safety system design and completion easier
CENTERLINE 2100 MCC with ArcShield Technology
Helps to reduce arc flash hazards and provide you with increased protection against internal electrical arcing faults

Meets Type 2 accessibility requirements, as defined by IEEE C37.20.7

Includes arc-resistant latches on all doors for pressure relief to keep the door latched to the MCC during an arcing fault

Includes arc-resistant baffles in all MCC units, including variable frequency drives, to enable adequate heat dissipation and retain arc-containment
CENTERLINE 2100 MCC with SecureConnect Units
Provides disconnect power from an MCC plug-in unit without opening the enclosure door

Helps to reduce electrical shock and exposure to electrical hazards

Streamlines maintenance and reduces downtime

Offers minimal impact to current or future electrical design

Offers remote operator option for SecureConnect™ units that allows customers to connect and disconnect SecureConnect units from the MCC. This operator is available through our Encompass Product Partner CBS ArcSafe, Inc.
CENTERLINE 2100 MCC with IntelliCENTER Technology
Offers a built-in EtherNet/IP™ network that provides real time data to minimize the need to approach the MCC

Offers built-in EtherNet/IP and DeviceNet™ technology which is designed and tested to ODVA specifications to help assure reliable communications

Includes IntelliCENTER® software which provides access to operating data and troubleshooting to help reduce downtime
CENTERLINE 2100 MCC Additional Network Options
Offers complete Modbus TCP solution with the need for additional hardware

Streamlines integration into third-party DCS with predefined Modbus registers

Provides a consistent approach to deploying the MCC with a standard 600V rated Ethernet cable and Stratix switch architecture
| Resource | Publication Number | Language |
| --- | --- | --- |
| CENTERLINE 2100 Motor Control Centers Brochure | 2100-BR006 | |
| IntelliCENTER Technology with EtherNet/IP Brochure | MCC-BR003 | |
| CENTERLINE 2100 SecureConnect Product Profile | 2100-PP022 | |
| CENTERLINE 2100 Selection Guide | 2100-SG003 | |
| CENTERLINE 2100 Motor Control Center Migration Guide | 2100-RM005 | |
| CENTERLINE 2100 Motor Control Centers Program Guide | 2100-CA004 | |
| CENTERLINE 2100 MCC Installation Manual | 2100-IN012 | |
| Installation of Straight Splice Insulator Kit (Must download local copy to open) | 2100-IN097 | |
| Installation of Z-Splice Insulator Kit (Must download local copy to open) | 2100-IN098 | |
| CENTERLINE 2100 Specification Checklist | 2100-SR003 | |
| CENTERLINE 2100 MCC Procurement Specification - CSI Format | 2100-SR007 | |
| Power System Considerations for Product Selection Application Technique | 2100-AT003 | |
| Quick-Wire Program for OEMs, System Integrators and Power Packagers | 2100-SP005 | |
| Virtual Factory Acceptance Testing | MCC-SP005 | |