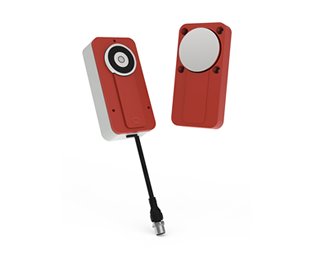 Provide process and machine protection per ISO EN 14119
Includes non-contact guard locking device with a "Power to Lock" (PTL) locking function
Offers PLe, Cat 4, SIL 3 safety ratings
Offers switches that can be connected in series
Provides 500 N holding force and 5 mm alignment tolerance
Includes IP67 enclosure: Anodized aluminum sensor housing; Fiberglass/PVC actuator housing
Offers 5-pin and 8-pin M12 Micro QD connection options
Additional Information
Connected Components Solution — Our Connected Components solution offers a simple, cost effective micro-automation solution for builders of small, standalone machines.
Protect your people, productivity, and environment with our Safety Components and integrated Safety Solutions. We understand your factory floor challenges and can help you meet your goals with one of the broadest safety portfolios in the industry.
Certifications
CE Marked for all applicable EU directives
C- tick
cULus (UL 508)
TÜV
Safety Classification
PLe Category 4 per ISO 13849-1, SIL 3 per IEC 61508 and IEC 62061
Functional Safety Data
Guard door sensing and lock monitoring
PFHd: 1.5 x 10-8 at 40 °C (104 °F) and 1000 m (0.62 mi) above sea level

Dual channel interlock can be suitable for use in application up to PLe (according to ISO 13849-1) and for use up to
SIL 3 systems (according to IEC 62061 and IEC 61508) depending on application characteristics.
Mission time/PTI: 20 years
Certifications apply when product is marked. See our Product Certification site for Declarations of Conformity, certificates and other certification details. 
| Resource | Publication Number | Language |
| --- | --- | --- |
| Bulletin 440G-EZ Electromagnetic Safety Switch Product Profile | 440GEZ-PP001 | |
| Safety Switches Specifications Technical Data | SWITCH-TD001 | |
| 440G-EZ Interlocking Safety Switch Installation Instructions | 440G-IN019 | |
| 440G-EZ Interlocking Safety Switch User Manual | 440G-UM003 | |