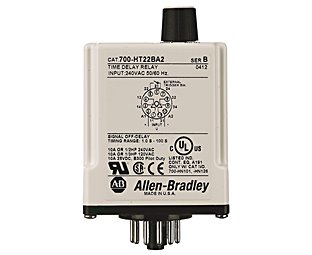 Offers on- or off-delay options
Includes rugged pin style socket mounting
Provides 10 A, DPDT contact ratings
Includes fixed timing range 0.1 s…30 min
Includes single adjustable timing range 0.1 s…3 min
Allen-Bradley relays and timers are part of Rockwell Automation's Essential Components line. Learn more about how these industrial building blocks can streamline your installation, improve uptime and decrease maintenance—ultimately helping lower your costs.
Certifications
CE Marked
CSA Certified — File 223833
UL Listed — File No. E3125; Guide No. NLDX (when used with 700-HN100, 700-HN101, 700-HN125, and 700-HN126 Sockets)
UL Recognized — File No. E3125; Guide No. NLDX 2
Standards Compliance
CSA 22.2 No. 14
EN 60947-1,-5-1
EN 61812-1
UL 508
Certifications apply when product is marked. See our Product Certification site for Declarations of Conformity, certificates and other certification details.