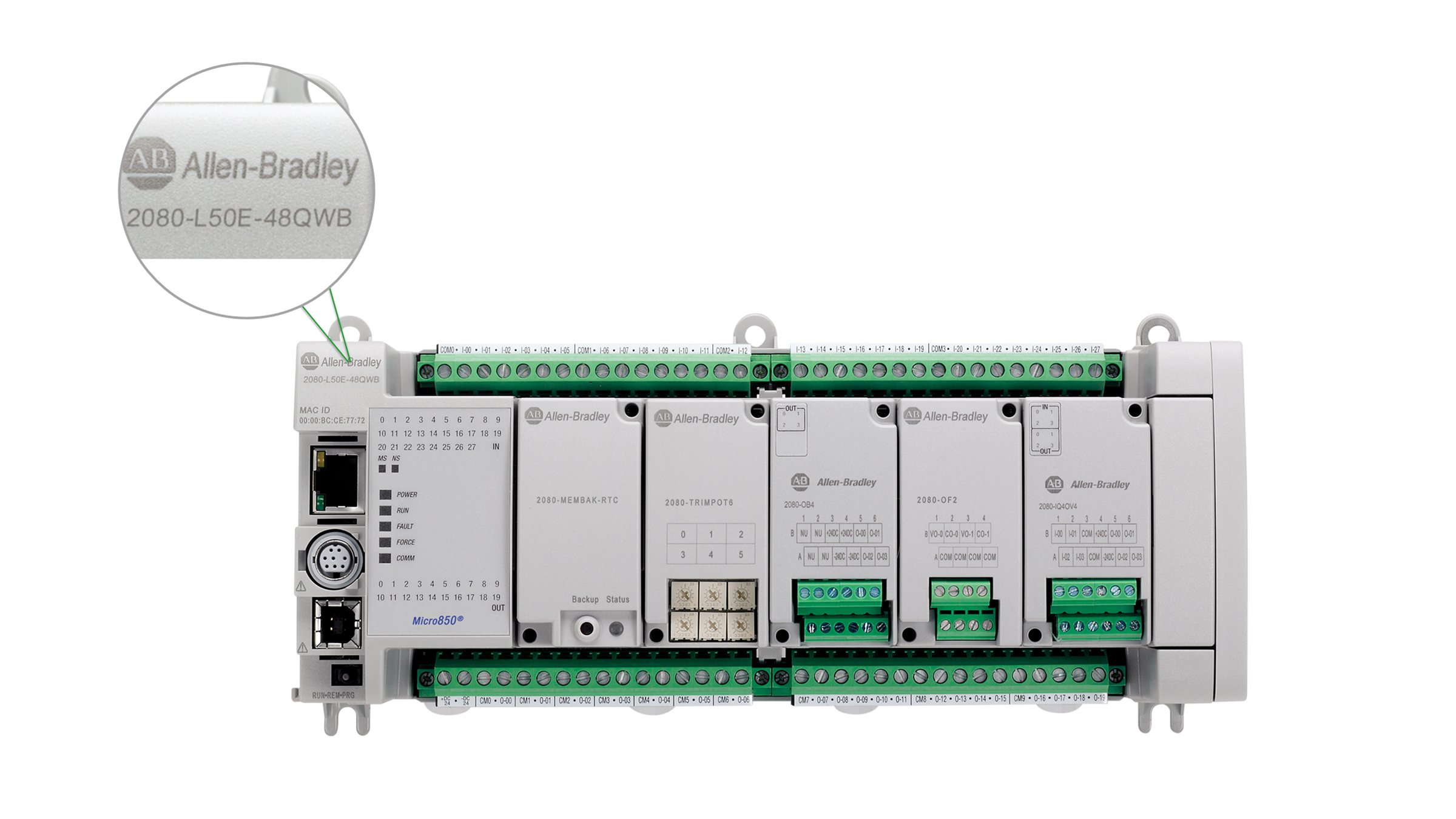 Our Micro850® programmable logic controllers (PLC) are designed for larger standalone machine control applications that require flexible communications and greater I/O capabilities. These controllers support up to 192 I/O points with high-performance I/O, interrupts, and Pulse Train Output (PTO) motion plus embedded Ethernet port and Micro800™ Expansion I/O modules.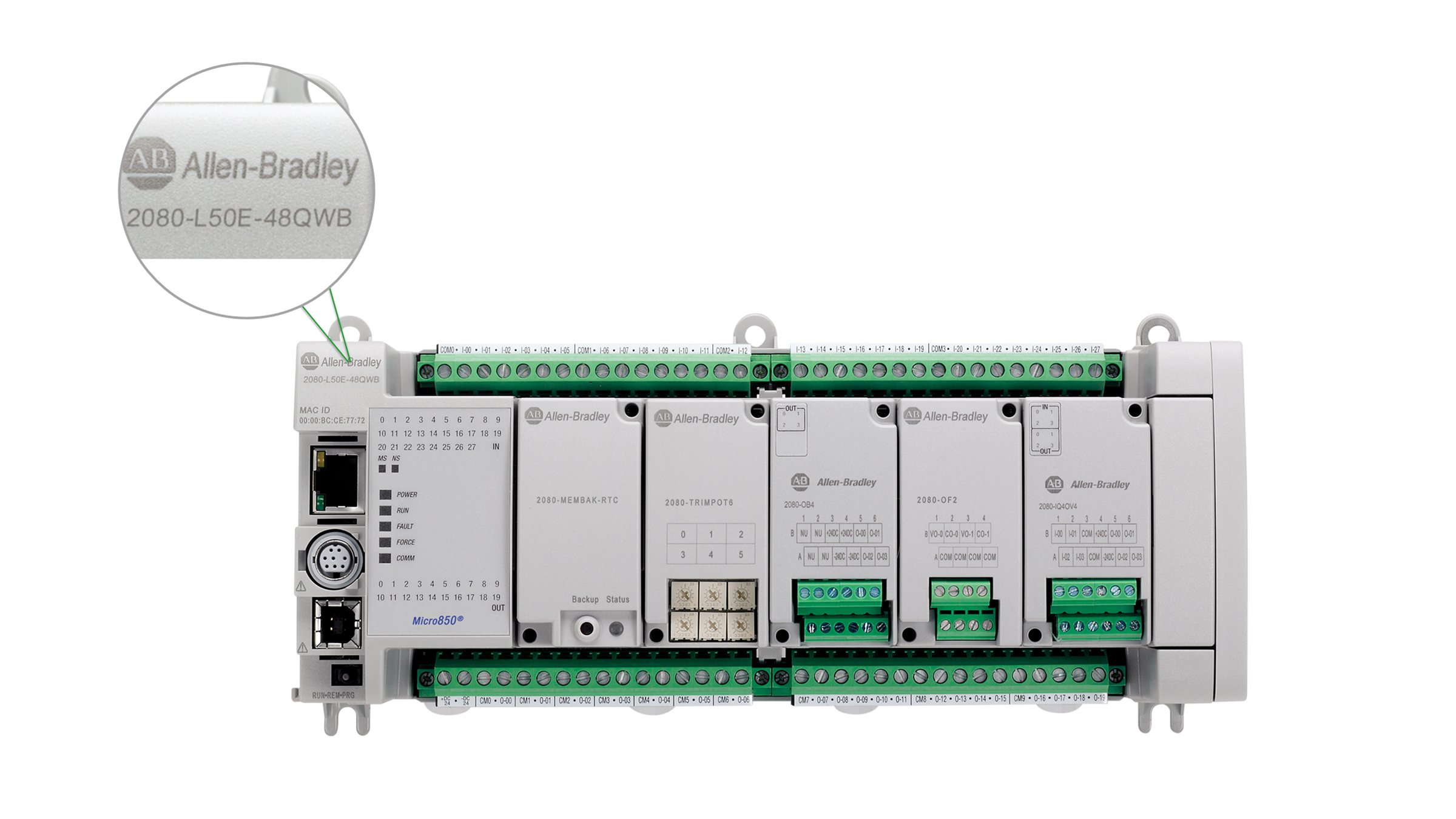 What's New?
Optimize Operational Productivity with Our New Micro850 Controllers
The latest controller catalogs 2080-L50E offer additional capabilities that enhance security protection and improve controller performance:

Improved performance with increased I/O response and code execution time

Increased protocol connectivity with expanded DF1 communications support

Optimized for Connected Components Workbench™ software version 20.01.00 as the minimum requirement

Easy recognition of new controller options with catalog numbers containing E, for Ethernet connectivity, after the controller series. For example: 2080-L50E
Offers 24-point and 48-point controllers
Includes 100 kHz speed high-speed counter (HSC) inputs on 24V DC models
Provides embedded communications via USB programming port, non-isolated serial port (for RS-232 and RS-485) and Ethernet port
Supports up to five Micro800™ plug-in modules
Supports up to four Micro850® expansion I/O modules, up to 192 I/O points
Provides embedded motion capabilities by supporting as many as three axes with Pulse Train Outputs (PTO)
Communicates via EtherNet/IP™
Operates in -20…+65 °C (-4…+149 °F) temperatures
Supports microSD™ card for program transfer, datalog, and recipe management through plug-in module
Certifications
c-UL-us Class 1 Div 2
CE
C-Tick
KC
Certifications apply when product is marked. See our Product Certification site for Declarations of Conformity, certificates and other certification details. 
| Resource | Publication Number | Language |
| --- | --- | --- |
| Micro800 Controllers Family eBook | 2080-BR001 | |
| Micro800 Programmable Controllers Family Selection Guide | 2080-SG001 | |
| Micro800 Programmable Controllers Technical Data | 2080-TD001 | |
| Automation of Intermittent VFFS Machine Using Micro850 Controllers White Paper | OEM-WP011 | |
| Micro800 Programmable Controllers General Instructions | 2080-RM001 | |
| Micro800 External AC Power Supply Installation Instructions | 2080-IN001 | |
| Micro800 Programmable Controllers Installation Instructions | 2080-IN013 | |
| Micro830, Micro850, and Micro870 Programmable Controllers User Manual | 2080-UM002 | |
Intermittent Vertical Form, Fill, and Seal Machine
Shearing Machine with Flying Cut