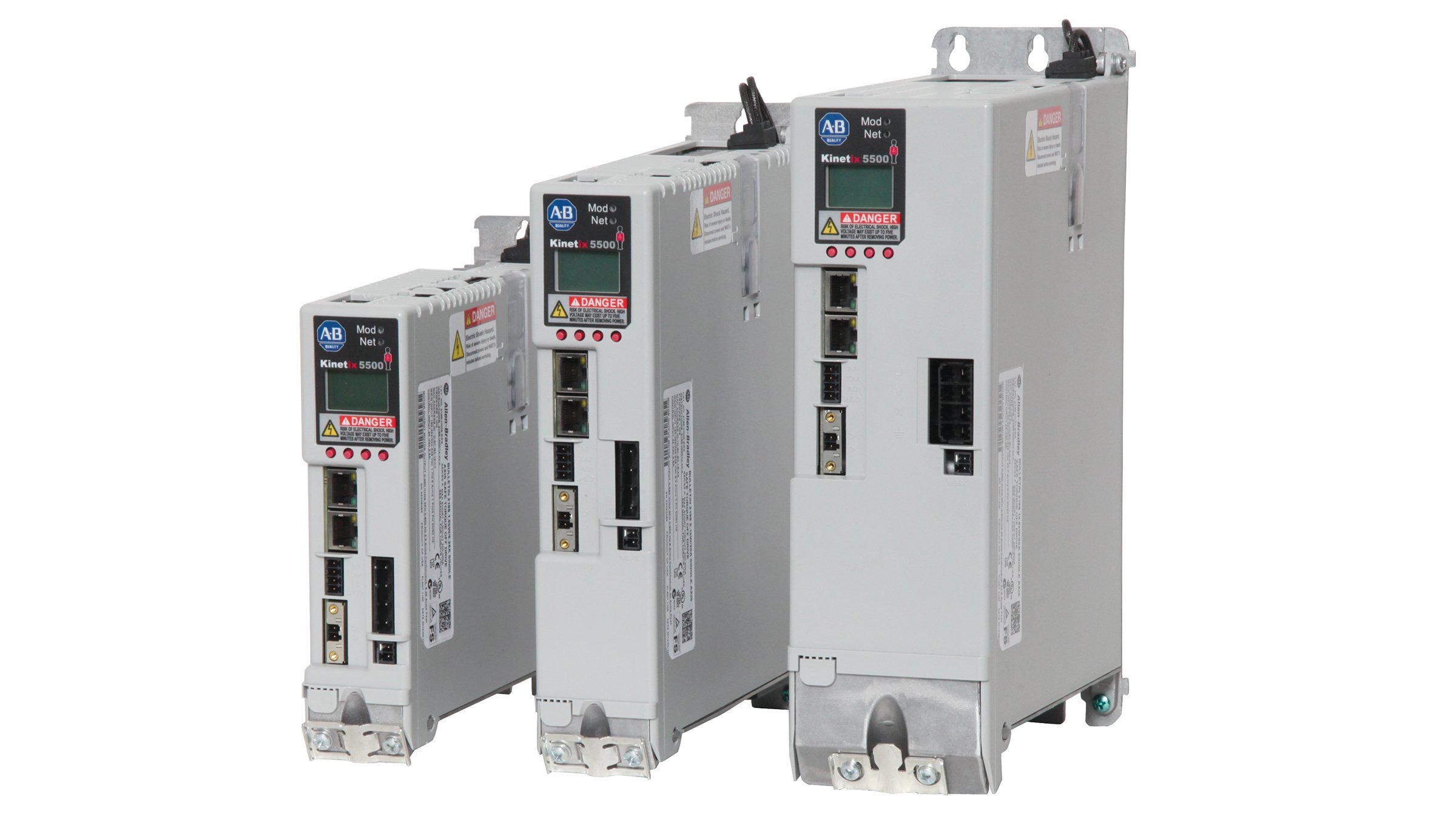 Our Bulletin 2198 Kinetix® 5500 Servo Drives connect to and operate with CompactLogix™ 5370 controllers, supporting Integrated Motion on EtherNet/IP. With its innovative, compact design, the Kinetix 5500 drive helps minimize machine footprint and simplifies system wiring. In addition, the dual-port Ethernet allows for both line and Device Level Ring (DLR) topologies.
Offers innovative shared AC/DC bus connection to configure multi-axis applications

Includes dual-port Ethernet

Provides digital feedback through a single cable

Provides disturbance observer that allows up to 80-1 inertia mismatch

Lets you run servo and induction motors on one drive platform

Safe Torque-off is certified at ISO 13849-1 PLd/SIL 2

Uses Load Observer real-time tuning technology

Helps save time by mitigating the need for tuning each axis

Automatically compensates for unknown mechanics, and compliance, such as in belts, flexible couplings, and shafts

Automatically adjusts for applications where inertia varies during operation

Enhances machine performance
Kinetix 5500 Integrated Safety Servo Drives
With an integrated safety drive, the safety signal is traveling through the EtherNet/IP network cable instead of being hard wired from drive to controller. You can change configurations for any of the drives on the network without having to change wiring. It can all be done with Studio 5000™ Logix Designer and your controller through the use of the EtherNet/IP network. With Kinetix 5500 Integrated Safety Servo Drives, you can:
Perform SIL3 Ple Safe Torque Off safety functions over EtherNet/IP connection

Complete project integration in Studio 5000™ Logix Designer for control, safety, and motion

Decrease wiring of safety circuit

Lessen number of components required

Validate your safety system through code reuse

Reduce cabinet space requirements
Typical applications for Kinetix 5500 Servo Drives include:
Automated assembly

Automated inspection

Food and beverage

Material handling

Packaging

Pharmaceutical

Printing
Certifications
CE

C-Tick

KCC

ODVA

SCCR: 200 kA

UL 508C
Certifications apply when product is marked. See our Product Certification site for Declarations of Conformity, certificates and other certification details.