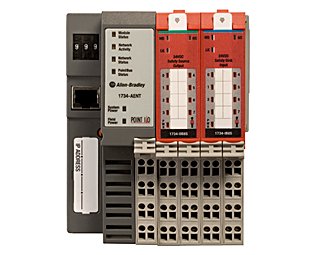 POINT Guard I/O™ modules are safety-rated I/O modules designed to fit into the standard POINT I/O™ system, offering automation and safety functionality in a maximum density I/O solution. POINT Guard I/O communicates by using the CIP™ safety protocol over EtherNet/IP™ for GuardLogix® controllers or DeviceNet™ for SmartGuard™ 600 controllers.
Fits into the standard POINT I/O™ system
Communicates by using the CIP™ Safety protocol over EtherNet/IP™ for GuardLogix™ controllers


For EtherNet/IP connectivity, use a POINT I/O EtherNet/IP adapter (1734-AENT, 1734-AENTR)
1734 POINT Guard I/O™ system
Supports 24V DC I/O circuits
Includes analog input circuits
Additional Information
Protect your people, productivity, and environment with our Safety Components and integrated Safety Solutions. We understand your factory floor challenges and can help you meet your goals with one of the broadest safety portfolios in the industry.
Our Integrated Architecture Solutions provide the foundation to drive plantwide optimization efficiently and effectively, enabling you to respond competitively to the economy and changes in consumer demand.
Our DeviceLogix Smart Component Technology integrates logic-solving capability into I/O, motor starters, push buttons, and other control components, delivering higher-performance and lower-cost distributed control.
Certifications
CE
c-UL-us
C-Tick
ODVA
ATEX
KC
TÜV-certified for functional safety up to and including SIL CL 3, PL(e)/Cat. 4.
For TÜV and SIL certification details, see the Safety Certificates and SIL link.
Certifications apply when product is marked. See our Product Certification site for Declarations of Conformity, certificates and other certification details. 
| Resource | Publication Number | Language |
| --- | --- | --- |
| POINT Guard I/O Product Profile | 1734-PP002 | |
| POINT I/O Product Profile | 1734-PP001 | |
| POINT I/O Selection Guide | 1734-SG001 | |
| EtherNet/IP Embedded Switch Technology Application Guide | ENET-AP005 | |
| POINT I/O Installation Instructions | 1734-IN510 | |
| POINT Guard I/O Safety Modules Installation & User Manual | 1734-UM013 | |