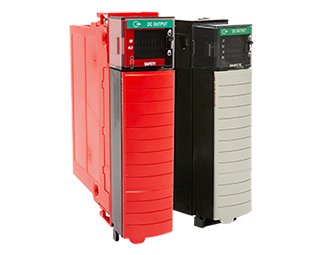 Mounts in a ControlLogix® chassis
Requires either a removable terminal block (RTB) or a Bulletin 1492 wiring interface module (IFM) to connect all field-side wiring
Includes inherent time-stamping capabilities for sequence of events (SOE) applications
Offers EtherNet/IP™ communication, including CIP Security™ and redundancy capability
Offers comprehensive I/O diagnostics for detection of both system and field-side failures
Provides removal and insertion under power (RIUP) for ease of maintenance
Offers electronic keying to help prevent replacement errors
Includes I/O wizards in the Studio 5000 Logix Designer® application to enable quick and easy module configuration
1756 ControlLogix CIP Safety I/0 Modules
Supports Compact GuardLogix® 5380 or GuardLogix 5580 controllers
Offers functional safety rated up to and including SIL3 and PLe
Supports CIP safety bridging and routing functionality
Use as local I/O or distributed I/O with 5580 GuardLogix controller
Provides enhanced reaction time
Uses the Logix Designer application version 32
Offers digital input modules: IB16S – 16 channels (each SIL 3 rated)
Offers digital output modules: OBV8S – 8 channels (each SIL 3 rated)
Includes compliance markings: TÜV, UL, IECEx, ATEX, CE, Marine, FM
ControlLogix Digital I/O Modules
Offers a variety of voltages
Provides 8 to 32 points per module
Offers isolated and non-isolated module types
Includes point-level output fault states
Offers direct-connect or rack-optimized communication
Offers field-side diagnostics on select modules
1756 ControlLogix Analog I/O Modules
Includes input, output, and combination modules
Provides thermocouple and RTD modules
Includes on-board data alarming
Offers scaling to engineering units
Provides real-time channel sampling
Offers electronic module keying, and is software configurable
Includes mechanical RTB keying, user-defined
Offers per channel configuration for voltage, current or 2-wire transmitter current sourcing
Offers Per channel configuration for either RTD or Thermocouple
As of March 31, 2017, the ControlLogix 1756 Isolated Analog I/O 6-channel modules will be discontinued and no longer available for sale. Customers are encouraged to migrate to the 1756 Isolated Analog I/O 8-channel modules using the Migrating 6-channel to 8-channel 1756 Analog Modules Migration Guide
1756 ControlLogix Specialty I/O Modules
Includes configurable flow meter modules
Provides high-speed counter modules
Offers programmable limit switch modules
1756 ControlLogix Removable Terminal Blocks (RTBs)
Provides a flexible interconnection between plant wiring and I/O modules
Includes screw-clamp or spring-clamp terminations
Not shipped with I/O modules; you must order separately
1756 HART Analog Isolated I/O Modules
Includes channel-to-channel isolation
Offers HART modem per channel for faster HART data update
Offers basic field device configuration via the Add-on Profile
Helps eliminate the need for field isolating barriers when using isolated modules
Offers 8- or 16-channel density modules
1756 Enhanced Analog I/O Modules
Offers increased accuracy, repeatability, stability, and precision
Includes isolated 8-channel and non-isolated 12- and 16-channel modules with stability over the entire temperature operating range
Does not require field calibration
Offers advanced precision using 24-bit design
Includes per channel status and fault LED annunciation
Offers SIL 1, systematic capability 2, type certified for use in a ControlLogix SIL 2 architecture
Offers an emulation mode that helps enable customers to migrate from 6-channel applications
1756 Communications Modules
Implements network-based access control for users, devices, and networks in the 1756 chassis
Offers redundancy capabilities
Offers security modules to encrypt important information shared between controllers and servers to prevent tampering
1756 Compute Module
Provides high-speed access to the ControlLogix controller over the backplane
Integrated DisplayPort™ for direct connection to a high-definition 5100 industrial monitor
Provides computing capability in a ControlLogix chassis
Additional Information
ControlLogix Starter Kit —

The ControlLogix Starter Kit is a discounted bundle of hardware and software that provides everything you need. Get started by choosing components to build a kit that is right for your environment.

Our Integrated Architecture Solutions provide the foundation to drive plantwide optimization efficiently and effectively, enabling you to respond competitively to the economy and changes in consumer demand.
Our PartnerNetwork™ offers complementary product solutions for 1756 ControlLogix I/O modules and 1756 ControlLogix Add On Profiles through the Encompass Product Reference program. You can sort and filter products from best-in-industry suppliers in your region to connect to the Rockwell Automation® architecture, or to use with our products.
Certifications
ATEX
C-Tick
CE Marked
CSA Certified
cULus Marked
FM Approved
TÜV
Certifications apply when product is marked. See our Product Certification site for Declarations of Conformity, certificates and other certification details. 
| Resource | Publication Number | Language |
| --- | --- | --- |
| ControlLogix Compute Module Product Profile | 1756-PP028 | |
| ControlLogix HART I/O Modules Product Profile | 1756-PP016 | |
| ControlLogix Isolated Analog I/O Product Profile | 1756-PP020 | |
| ControlLogix Peer-to-Peer I/O Product Profile | 1756-PP018 | |
| ControlLogix System Selection Guide | 1756-SG001 | |
| ControlLogix Starter Kit | 1756-SP401 | |
| Migrating 6-channel to 8-channel 1756 Analog Modules Migration Guide | 1756-RM011 | |
| ControlLogix I/O Modules Technical Data | 1756-TD002 | |
| ControlLogix Digital I/O Modules User Manual | 1756-UM058 | |
| ControlLogix Analog I/O Modules User Manual | 1756-UM009 | |