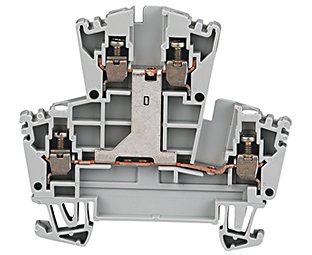 Our Bulletin 1492 Specialty Feed-through IEC Screw-type Terminal Blocks have test plugs and adapters that identify the presence of voltage and perform simple diagnostic measuring of voltage. Feed-through terminal blocks are available with a test plug that breaks the circuit, forcing the current to run through a meter connected to the circuit-break test plug. Make-before-break or break-before-make test plugs can be used with the testing terminal block.
Variety of colors available

Fusing solutions

Improved panel space use

Flexible plug-in connection system

Many accessories available
Certifications
CE Marked
CSA Certified
UL Recognized
Certifications apply when product is marked. See our Product Certification site for Declarations of Conformity, certificates and other certification details.