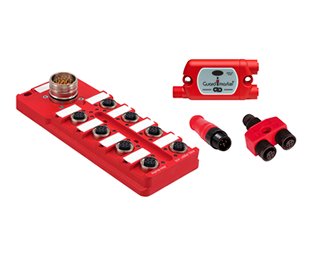 Our Guardmaster® Safety t-ports/splitters, distribution boxes, shorting plugs, and taps are parts of a quick-disconnect system dedicated to machine safety. GuardLink™ taps connect safety input devices to a GuardLink system, a safety-based communications protocol that links safety to The Connected Enterprise®. GuardLink enabled devices offer advanced features and diagnostics that can only be accessed through a GuardLink enabled connection tap.
Guardmaster® safety connection systems are designed to:
Reduce installation cost

Ease system expansion

Simplify troubleshooting

Promote system modularity

Provide for Safety PLC input expansion

Support systems up to Category 3 (per EN954-1)
Additional Information
Protect your people, productivity, and environment with our Safety Components and integrated Safety Solutions. We understand your factory floor challenges and can help you meet your goals with one of the broadest safety portfolios in the industry.

Resource
Publication Number
Language
Connectivity & Network Media Brochure
CONEC-BR001
GuardLink Enabled Connection Taps Product Profile
440S-PP001
Safety Connection Systems Technical Data
888-TD001
GuardLink Enabled Tap Installation Instructions
440S-IN007
Guardmaster GuardLink Safety Systems User Manual
440R-UM015
Guardmaster DG Dual GuardLink Safety Relay Product Profile
440R-PP002
Smart Safety Interactive Brochure