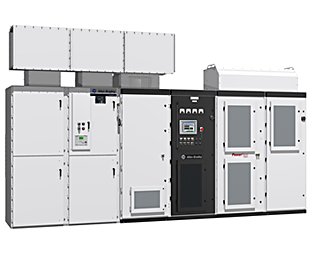 Our PowerFlex® 7000 Drive System with ArcShield™ technology is the first arc-resistant medium-voltage drive with full regeneration capabilities. The arc-resistant system is certified to meet the most comprehensive set of global arc-resistant standards. This system provides an arc fault rating up to 50 kA and meets Type 2B accessibility protection standards.
Includes rated voltages of 2.4, 3.3, and 4.16 kV, with motor current up to 430 A for synchronous or induction motors

Fully integrated CENTERLINE® starter with ArcShield and PowerFlex 7000 drive combination

Provides Type 2B accessibility protection up to 50 kA arc rating:

Protects personnel while in front, at the side, and at the rear of the enclosure

Maintains arc protection when the low voltage door is open for maintenance purposes

Provides patented ventilation system technology to prevent arc flash energy from escaping through cooling air intake and exhaust vents

Includes EtherNet/IP™ networking communications which provide full integration with Logix control platform

Four quadrant operation makes this drive system a more capable energy management solution compared to other technologies

Meets arc resistant standards IEEE C37.20.7, CSA C22.2 No. 22-11, IEC 62271-200, IEC 62447-2, EEMAC G14-1
You can use the following software to program your drives.
| Resource | Publication Number | Language |
| --- | --- | --- |
| PowerFlex Medium Voltage AC Drives Brochure | PFLEX-BR010 | |
| Medium Voltage Solutions for Marine Applications Brochure | MARINE-BR003 | |
| PowerFlex 7000 Medium Voltage AC Variable Frequency Drive - 18-Pulse, Air-Cooled Procurement Specifications | 7000-SR004 | |
| PowerFlex 7000 Medium Voltage AC Variable Frequency Drive - AFE, Air-Cooled Procurement Specifications | 7000-SR005 | |
| Virtual Factory Acceptance Testing | MCC-SP005 | |
Certifications
ANSI
IEC
IEEE
NEMA
UL Listed