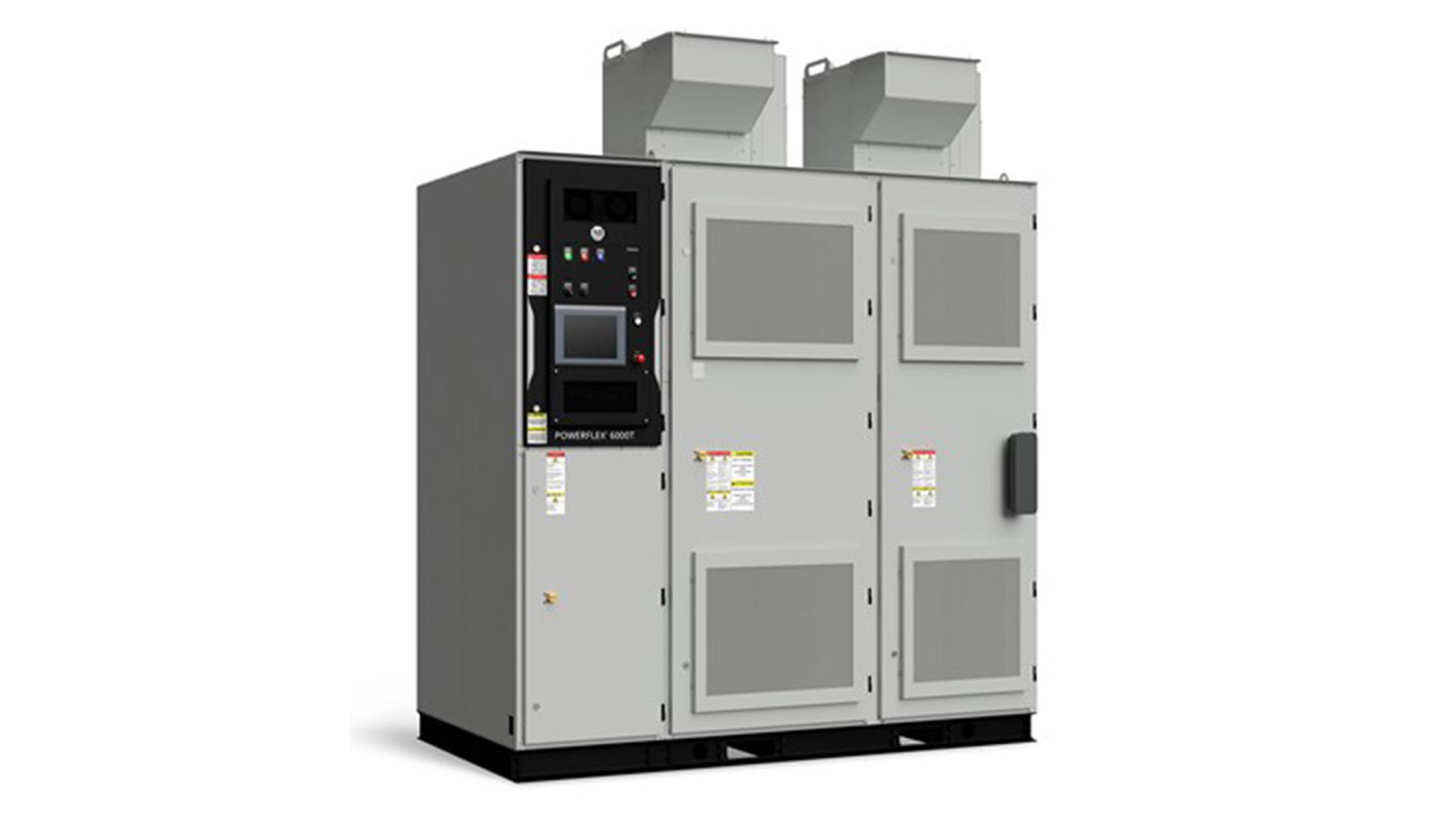 Our PowerFlex® 6000 Medium Voltage AC Drives allow for flexibility in a variety of applications. They are suited for new and retrofit, variable torque, and constant torque applications. Some of these applications include fans, pumps and compressors that require variable speed motor control from 2.3...11 kV. These drives are available in multiple configurations based on motor voltage and regional requirements.
PowerFlex 6000T VFD Increases Output Frequency up to 120 Hz
As customers increase demand for greater output frequency range, we expanded the PowerFlex® 6000T AC medium voltage variable frequency drive range up to 120 Hz.
The new output frequency range meets the needs of customers operating high-speed applications, even in demanding industrial environments such as oil, gas, utility, mining and water/wastewater. This includes controlling high speed:
Compressors

Pumps and electro-submersible pumps

Mixers
The PowerFlex 6000T VFD also offers the new RealSine™ solution
The option helps reduce input harmonics to significantly lower levels than what is typically seen in the industry. Available from 2.4…4.16 kV up to 215 A, without changing the number of drive transformer secondary windings, each secondary winding is specially phase-shifted to achieve 54 pulse or 72 pulse respectively, compared to traditional 18 pulse or 24 pulse designs for this voltage range.
This new design offers up to 30% improvement in total harmonic current distortion at the primary drive side. By reducing harmonic distortion, the VFD improves system efficiency, reduces energy cost and minimizes power distribution issues on the factory floor. Plus, it doesn't require additional hardware or affect the drive footprint.
Offers multiple control modes, including flux vector control - featuring up to 150% starting torque with an encoder and a minimum of 100% starting toque without an encoder

Reduces peak demand charges by operating near unity power factor throughout the speed range

Includes integrally mounted, multi-pulse isolation transformer to help ensure low line side harmonics and high input power factor

Includes internally powered ECO fans that provide higher efficiency and reduced losses

Includes optional automatic power cell bypass which helps maximize uptime in your critical applications

Offers common modular power cells that are designed for easy removal which minimizes Mean Time to Repair

Includes intuitive, easy to use 10-inch color touchscreen eHIM

Offers synchronous transfer control up to 10 motors
Premier Integration and Energy Monitoring
Includes easy configuration, integration and visualization in the Studio 5000® design environment. The Add-on Profile is the preconfigured data translator, visual user interface, and data configurator all rolled into one. It is also the primary tool that sends drive data to the control system.
Features Connected Components Workbench™ software full device profile support, which makes it easier to configure, program and visualize in a single software package
Includes extensive input power monitoring functionality for kW, kVA, kVAR, elapsed kWh, MWh, and power factor
Quick and secure flash-over-fiber firmware updates for all main control boards and power cells from a single file
More comprehensive and faster troubleshooting with the Forensic Data Recorder functionality
TotalFORCE Technology
Features flexible high-performance control

Includes flux vector, sensorless vector and V/ Hz control with load sharing
Features standard Device Logix capability

Features real-time operational intelligence

Offers predictive and preventative maintenance algorithms
Provides real-time alerts

Features automated commissioning and optimization with in-built adaptive control capability via

Load Observer real-time tuning technology automatically compensates for unknown load disturbances and adjusts for applications with varying inertia and torque requirements during operation
Adaptive tuning monitors real-time drive and system performance characteristics via notch filters to identify and suppress potentially harmful resonance and vibration conditions
Use PowerFlex Drives with TotalFORCE Technology to Solve Problems
| Resource | Publication Number | Language |
| --- | --- | --- |
| PowerFlex Medium Voltage AC Drives Brochure | PFLEX-BR010 | |
| PowerFlex 6000 Medium Voltage AC Drives Packaged in Type 3R / IP54 Enclosures Product Profile | 6000-PP006 | |
| PowerFlex 6000 Medium Voltage Variable Frequency Drive Catalog Number Explanation (IEC Rated) | 6000-SR002 | |
| PowerFlex 6000 Medium Voltage Variable Frequency Drive Communications Specifications | 6000-SR007 | |
| PowerFlex 6000 Medium Voltage Variable Frequency Drive Catalog Number Explanation (UL Rated) | 6000-SR003 | |
| Virtual Factory Acceptance Testing | MCC-SP005 | |
Certifications
CE Marked
IEC
IEEE
NEMA
UL Listed
ANSI