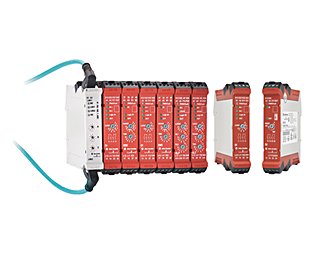 Our Guardmaster® single-function safety relays are designed to meet functional safety standards, such as ISO 13849-1 or IEC 62061, and they offer key functions to simplify installation and system complexity. In addition, information gathered from the GSR intelligent safety relays via the optional EtherNet/IP Interface helps minimize unplanned downtime, increase efficiencies, and enable The Connected Enterprise®. The Guardmaster Dual GuardLink Safety Relay further extends this capability to even share diagnostics and status information of safety switches and safety sensors connected in series via GuardLink.
Offers a broad range of safety functions

Provides versatility through simple logic, reset and timing configurations

Includes single wire safety relay connection which allows for ease of installation and system flexibility

Terminals are grouped together by power inputs and outputs for clear connection

Offers compact solution which saves energy and space on DIN rail

Provides consistent terminal layouts and configuration allow simplified installation

Offers an optional Guardmaster EtherNet/IP Network Interface (440R-ENETR) that allows Guardmaster Safety Relays to communicate on an EtherNet/IP network

Includes the Guardmaster Dual GuardLink safety relay, which provides visibility of system status down to the individual guard doors and E-stops when used with GuardLink-enabled smart safety devices
Additional Information

Enable safety in your Connected Enterprise with the GuardLink™ technology safety system. Allen-Bradley® Guardmaster® smart safety devices that feature GuardLink technology deliver information, advanced functionality, and flexibility. This technology helps enhance safety and increase machine- and plant-wide efficiency.
Protect your people, productivity, and environment with our Safety Components and integrated Safety Solutions. We understand your factory floor challenges and can help you meet your goals with one of the broadest safety portfolios in the industry.
| Resource | Publication Number | Language |
| --- | --- | --- |
| Guardmaster Safety Relay Brochure | GLSAFE-BR003 | |
| Guardmaster DG Dual GuardLink Safety Relay Product Profile | 440R-PP002 | |
| Guardmaster 440R-ENETR EtherNet/IP Network Interface Product Profile | 440R-PP001 | |
| Guardmaster Guard Locking with Proximity Sensors Safety Relay (GLP) Product Profile | 440RG-PP001 | |
| Minotaur Safety Relays to Guardmaster Safety Relays Family Migration Profile | MIGRAT-PP011 | |
| Minotaur Safety Relays Family to Guardmaster Safety Relays Migration Profile | MIGRAT-PP024 | |
Certifications
CE Marked for all applicable directives

cULus Listed

TÜV Certified
Safety Classification
DG/DI/DIS/CI/SI/EM/EMD: Suitable up to PLe and CAT4 per EN ISO 13849-1:2006, SIL CL3 per IEC 61508:2010/IEC62061:2006 depending on architecture and application characteristics

GLP/GLT: Suitable up to PLd and CAT3 per EN ISO 13849-1:2006, SIL CL2 per IEC 61508:2010/IEC62061:2006 depending on architecture and application characteristics
Standards Compliance
IEC 60204‑1

EN ISO 13849‑1

EN ISO 12100

IEC 61508