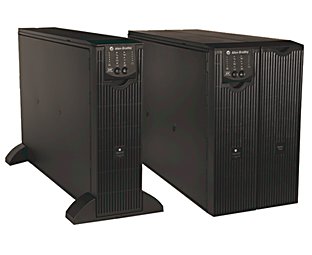 Our Bulletin 1609-P Industrial Uninterruptible Power Supplies feature powerful high density double conversion on-line UPSs for the industrial environment. These units are typically assembled in a tower configuration and installed outside of a control panel.
Includes hot swappable battery packs
Offers rack convertible options
Includes network management capabilities (Ethernet, RS232)
Provides extended runtimes
Includes double conversion online topology
Offers 3...10 kVA power range for both 208/230V applications
Offers 3 kVA power range for 120V applications
Certifications
CSA Certified — File No. LR1234
UL Listed — File No. E190749; Guide No. YEDU
Standards Compliance
CE
CSA C22.2, No. 107
FCC
UL 1778
Certifications apply when product is marked. See our Product Certification site for Declarations of Conformity, certificates and other certification details.