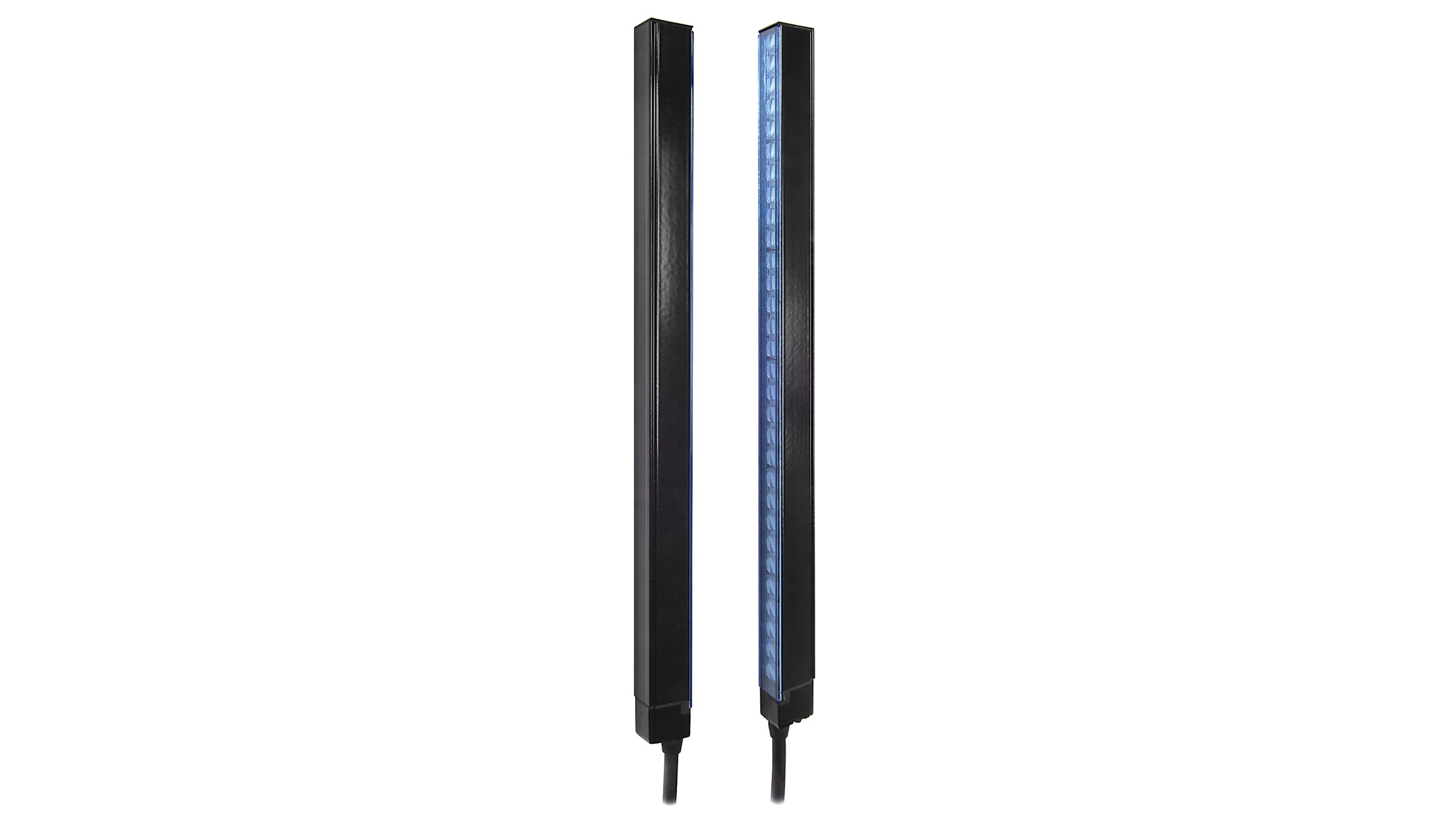 Our Bulletin 45MLA Measuring Light Array Photoelectric Sensors detect or measure targets in a two dimensional area—even if the parts are irregularly shaped, sized, or positioned. These sensors can detect and communicate individual beam status to measure and determine the position of objects. The emitter and receiver arrays are connected to a separate controller. All I/O, communications, and power connections are wired to an external controller. We offer controllers with various functions and/or communication interfaces: I/O, CAN, RS485, Binary, and Analog.
Sensing heights from 300...1200 mm (11.8...47.2 in.)

Sensing range up to 4 m (13 ft)

Detects objects regardless of position in sensing field

Detects targets with gaps or spaces

Slim housing profile of 15 x 20 mm (0.6 x 0.8 in.)

Beam spacing of 10 mm (0.39 in.) or 25 mm (0.98 in.)

Cascading option for X-Y applications
Certifications
CE Marked for all applicable directives
Certifications apply when product is marked. See our Product Certification site for Declarations of Conformity, certificates and other certification details. 
| Resource | Publication Number | Language |
| --- | --- | --- |
| Presence Sensing Brochure | SENSOR-BR001 | |
| Light Array Sensors Specifications Technical Data | ARRAYS-TD001 | |
| Bulletin 45MLA Measuring Light Array Sensors Installation Instructions | 45MLA-IN001 | |
| Bulletin 45MLA Controller Installation Instructions | 45MLA-IN002 | |
| Light Arrays Installation Instructions | 45MLA-IN004 | |
| Simple Package Measurement Components Building Block Quick Start Guide | CC-QS012 | |
| Bulletin 45MLA Measuring Light Array Controller User Manual | 45MLA-UM001 | |